Continuing to recognize Alfred State students for their leadership and academic excellence, the college's chapter of the National Society of Leadership and Success (NSLS) recently held its fourth biannual induction ceremony.
The induction was hosted by Director of Student Engagement Troy Morehouse and Residence Hall Director John Lehman, the chapter advisors, as well as Dennis Contreras, nursing, Dansville; Austin Oakes, heavy equipment operations, Blossvale; and Anthony Dietz, heavy equipment operations, Nunda. The night was put together through the hard work and dedication of these gentlemen and went off without a hitch.
According to Morehouse, the induction of the spring 2019 class was special because 70 student members were inducted, which means that around 70 percent of the overall current class is new. This figure is well above the 25 to 30 percent that is seen as the national average. The induction was also special because the chapter was able to honor more than 120 graduating seniors who are a part of NSLS.
New student inductees included:
Nicole Ahle, Jalynn Ashdown, Jillian Augustyn, Keegan Baxter, Emily Benes, Caleb Bieser, Tristin Brown, Aboubacar Camara, Elizabeth Childs, Molly Cole, Catherine Corrigan, Ruth Crowley, Keith Delehanty, Robert Demarco, Anthony Dietz, Madeline Dorey, Alex Dougherty, Alexander Dutton, Brad Erdman, Spencer Fisher, Nathan Fox, Katherine Frascella, Alexander Gartland, Shane Guarriello, Gavin Hamilton, Alexis Hinds, Josh Jacobs, Vanessa Jacobs, Brian Johnson, Allan Jones, Richard Jones, Ronald Jones, Justin King, Taniea Lewis, Ashley Loper, Jacob McGhan, Hannah Metcalf, Ryan Mikolajczyk, Kevin Miller, Alfred Musto III, Lorianna Niemirow, Austin Oakes, Deborah Oliveira, Janu Patel, Nicholas Pecoraro, Joseph Piccolo, Connor Pingitore, Karl Platt IV, Jameek Rivers, Frank Rosati, Alexa Sass, Kameron Scottow, Sarah Sheppard, Ryan Shipherd, Jonathan Silsby, Colin Smith, Declan Smith, Ashlyne Sullivan, Braedon Thisse, Garrett Thompson, Jesse Tinker, Taylor Van Epps, Jacob Weaver, Jordan Wetherwax, Zachary Wheeler, Kyle Wiedemann, Carolyn Wright, Alexander Wuerch, Eric Zamor, and Kyle Zawadzki.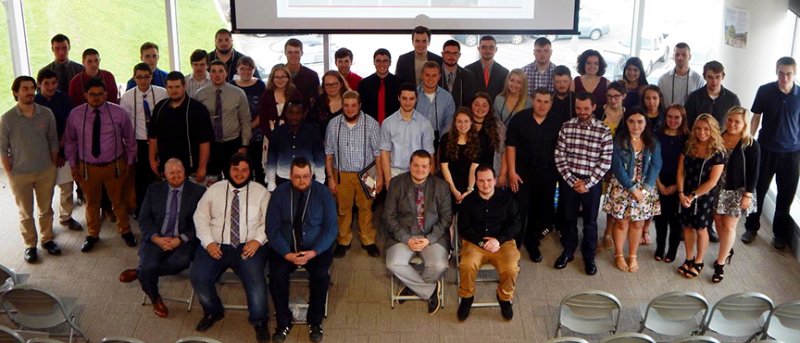 Highlights of the evening included Jack Jones, Building Trades Department chair, giving the keynote address and touching on the topic of how to be a leader. Jones received the Excellence in Teaching Award, as well as an honorary membership.
Another highlight was Coordinator of Student Activities Brittany Richards giving a special guest speech about passion. Richards also received the Excellence in Service to Students Award, as well as an honorary membership.
"We are very proud to say that after this graduation we will have over 200 alumni and over 100 active students who are still involved with NSLS," Morehouse said. "We are looking forward to what the future holds for our Alfred State chapter of NSLS, and are very hopeful that we can keep on an upward trend of continually raising the bar when it comes to the number of students that are inducted. Here is to hitting the ground running with our best foot forward for the NSLS!"