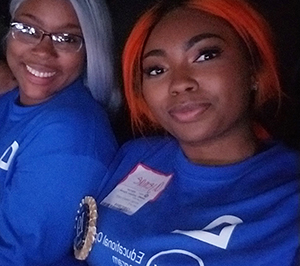 When Ajenae Jackson found out she would be heading to Brooklyn for Michelle Obama's "Becoming" event on Dec. 1, she was understandably overcome with emotion.
"When the opportunity was presented to me, I was very excited," said Jackson, a Bronx native and criminal justice major at Alfred State College. "I was very grateful. I started to cry because it felt good to know that someone believed in me enough to present this beautiful opportunity to me."
Jackson is a student within the Educational Opportunity Program (EOP), which offers higher education opportunities to high school graduates or to holders of high school equivalency diplomas who do not meet normally applied admission criteria, but who have the potential for college success. Altogether, EOP students from 41 different SUNY campuses attended the event at the Barclays Center, which was part of a live US book tour being held in support of Mrs. Obama's popular memoir, "Becoming."
Mary Lou Davis, an EOP counselor at Alfred State, said Jackson was selected to attend because she embodies all that is good and empowering within the messages of Michelle Obama's book "Becoming," and SUNY's Educational Opportunity Program.
"Ajenae has overcome many obstacles, and inspires others through her actions as a student and as a member of our EOP family," Davis said. "She is a woman who is actively becoming all that she can be, while obtaining her degree at Alfred State. Her grace, humility, and dedication made this an easy choice for EOP professionals when deciding who would represent us. Ajenae repeatedly said what a blessing this has been. We are truly grateful to EOP for providing this once-in-a-lifetime experience, and consider ourselves blessed to have Ajenae in our midst."
According to a description on the Barclays' website, the event featured intimate and honest conversations between Mrs. Obama and a selection of moderators, "reflective of the extraordinary stories shared in the wide-ranging chapters of her deeply personal book."
Attendees, according to the description, were able to "hear firsthand Mrs. Obama's intimate reflections on the experiences and events, both public and private, that have shaped her, from her childhood on the South Side of Chicago to her years as an executive balancing the demands of motherhood and work, to her years spent at the most famous address in the world." Mrs. Obama also shared life lessons learned and inspired people to become the very best version of themselves.
Before arriving at the Barclays, Jackson and her fellow EOP students from other SUNY schools met up at the Fashion Institute of Technology (FIT), where they mingled with one another, as well as FIT staff members. After a group dinner, the big moment had finally arrived.
"Then, we were off to go see Mrs. Michelle Obama! Once arriving at the arena, we took pictures and we got to tour the arena some," Jackson said. "When the event started, everyone was filled with joy!"
Mrs. Obama, Jackson recalled, touched upon many events that she explained in the book, including how important it is to follow your dreams and to have support.
"Although it was not a meet-and-greet, just being in the same room with our former first lady had me filled with emotions," Jackson said. "I felt extremely blessed. That was a once-in-a-lifetime opportunity for me. Overall, this experience was the best thing that has ever been given to me next to being alive. I'm so grateful for it."
What made the day even more special is that the event just happened to take place at an important time of the year for Jackson.
"I would not have wanted to spend my birthday any other way," she said. "I got to see the former first lady in person! Not many can say that."