As a way to celebrate and recognize the importance of cultural diversity, as well as international education and exchange, Alfred State College (ASC) recently held a series of events to coincide with International Education Week.
According to the event's website, International Education Week is an opportunity to celebrate the benefits of international education and exchange worldwide. This joint initiative of the US Department of State and the US Department of Education is part of an effort to promote programs that prepare Americans for a global environment and attract future leaders from abroad to study, learn, and exchange experiences.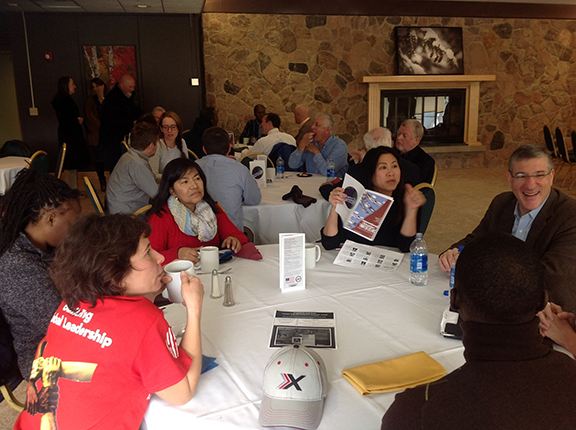 Among the numerous events that took place at Alfred State were a Taekwondo showcase, a maracas-making event, an African bead-making session, an Arabic and Egyptian showcase featuring cultural coffee and tea, and more. The programming initiatives were a joint effort among the International Education Office, the International Club, and the Center for Intercultural Unity.
Additionally this year, nine international students and Dean of Alfred State's School of Arts and Sciences Dr. Daniel Katz attended a reception presented by the Hornell Industrial Development Agency and Chamber of Commerce. The reception sought to help familiarize the students with the area, and "to continue the city's long-standing history of welcoming people from distant shores to become invested in its future," according to an article on the event by The Spectator.
Cyan Corwine, coordinator of International Education at Alfred State, said she was so pleased to see the student initiatives taken in order to bring International Education Week to life once again this year.
"I find it incredibly enriching watching our students take the lead on celebrating culture and connection," Corwine said. "We have a wonderfully diverse student population and International Education week provides a nice framework for them to think about ways they would like to see their own cultural dimensions celebrated. Though I help organize and take the lead on some events, it would not be the success it is without the continued voices and involvement of our student populations and the ongoing support of our faculty, staff, and administration."
In addition to the events, Alfred State also hosted the Cornell University Humphrey Fellows – members of a prestigious Fellowship that supports meaningful cross-cultural exchange opportunities and provides professionals from developing countries and emerging democracies an opportunity to enhance their leadership and professional portfolio through their placements at distinguished university centers across the US.
While visiting Alfred State, the Fellows toured the Wellsville campus and facilities and the College Farm, attended a networking lunch and two panel discussions, and also gave a guest lecture in Business Department Lecturer Susan Gorman's technical management class.
"The Humphrey Fellows undoubtedly bring a great deal of value to our campus, and I am thankful for our relationships with the Cornell Humphrey Fellow coordinators and campus support, which allow us to bring such wonderful international perspective to our campus every year," Corwine said.