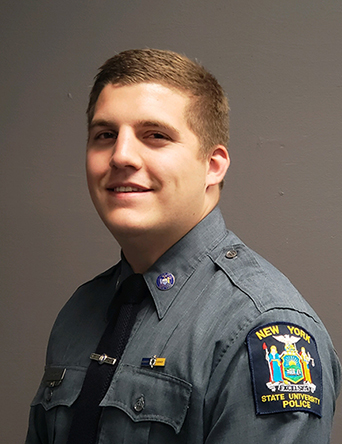 The State University Police Department at Alfred State College has added a new officer to its ranks: Stephen H. Crouch.
Officer Crouch, who began his field training in May, is familiar with the Southern Tier. He grew up in Painted Post and graduated from Corning-Painted Post High School in 2015. While in high school, Crouch was a captain on his football team and played lacrosse in the spring. Following his graduation from Corning-Painted Post, Crouch attended Corning Community College, where he graduated in 2017 with an associate degree with honors in criminal justice.
Crouch began his law enforcement career with the Steuben County Sheriff's Office in 2017, where he was employed as a corrections officer. In January 2018, Crouch entered the police academy as a phase 1 non-sworn recruit at the Southern Tier Law Enforcement Academy in Corning.
As a phase 1 recruit, Crouch was paying his own way and was not yet hired by a police department. During the spring, University Police hired Crouch off the statewide civil service list. After completing the Southern Tier Law Enforcement Academy, he joined the University Police at Alfred State.
Matthew Heller, chief of police at Alfred State said, "During the hiring process, the committee members came away saying Crouch had potential to become a very good police officer. The department is unique and we need people who can relate to individuals 18-22 years of age, and I think Officer Crouch can do that."
After completing his supervised field training, Crouch will join his classmates in the fall for his academy class graduation ceremony.