Competing against more than three dozen other entries from across the State University of New York (SUNY) system, Alfred State's own Torin Murphy came away with the top prize in the eighth annual SUNYWide Film Festival held at Buffalo State.
Murphy, an East Branch native who earned his digital media and animation bachelor's degree from Alfred State in May 2017, received the Grand Jury Award for his animated film, "Other Real."
The film was one of 39 overall from 10 SUNY campuses that were accepted into the festival, out of more than 150 that were submitted from 23 SUNY schools. "Other Real" tells the story of a man who, against his will, is pulled through a screen into a strange world beyond reality, populated by equally unreal creatures.
The Grand Jury winner has the highest-scoring film out of all of the submissions, as determined by the festival's five-person grand jury. Aaron Daniel Annas, director of the SUNYWide Film Festival and an assistant professor of media production at Buffalo State, said, to his knowledge, this is the first time an animated film has won the top prize.
"Congratulations to Torin on his landmark win at the SUNYWide Film Festival," Annas said. "It was exciting to see his passion, skill, and dedication to his art bring the spotlight to the category of animation at this year's festival."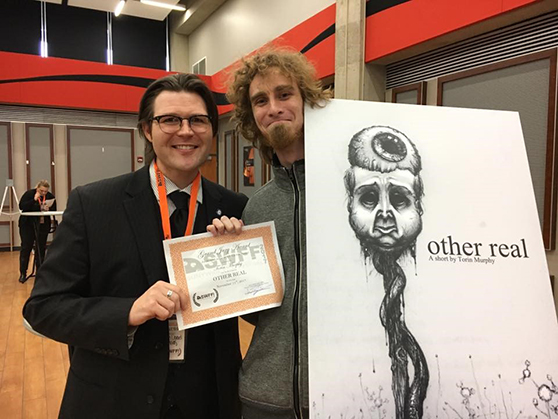 Being named the winner, Annas said, came as a bit of a shock to Murphy.
"We did not announce before the awards ceremony that the Grand Jury Award winner is not eligible to win the category prizes," he said. "By the time we reached our Grand Jury Award announcement, we had given out the winners in the animation category. Most likely, Torin believed that he had not won any awards for his film. When we announced him as the top winner at the festival, he appeared to be flabbergasted. It was a neat moment."
Speaking to the crowd after receiving his award, Murphy said, "I honestly didn't expect to win this. I want to thank my girlfriend for not submitting (her film) because she would have beat me."
Held for the first time in Buffalo in 2017, the SUNYWide Film Festival is intended to highlight the film and video work of students and faculty in the SUNY system. The festival's 2017 keynote speaker was Kyle Bradstreet, award-winning executive producer for "Mr. Robot" on USA Network and a Buffalo State alum.
Launched in 2009 by Phil Hastings, associate professor of film and video arts at SUNY Fredonia, the event has since grown into one of the top student festivals in the Northeast. Selected films and videos from previous SUNYWide Film Festivals have gone on to earn awards at other national and regional film festivals. To date, more than 800 students have submitted films and videos to compete in the SUNY event.
Torin Murphy's public portfolio including "Other Real."