Alfred State officially welcomed more than 1,300 freshmen to campus recently during a New Student Convocation led by President Dr. Skip Sullivan at the Orvis Activities Center.
This year's incoming class consists of 1,345 students from 59 of New York's 62 counties and 20 additional states, plus 13 international students from eight countries. Of these new students, 91 have been identified as Alfred State Distinguished Scholars and 198 additional students have been offered other scholarships in recognition of their outstanding academic achievements, exceptional vocational skills, and extraordinary talents outside of the classroom. A number of students also bring with them previous work experience, military experience, and successful college course work.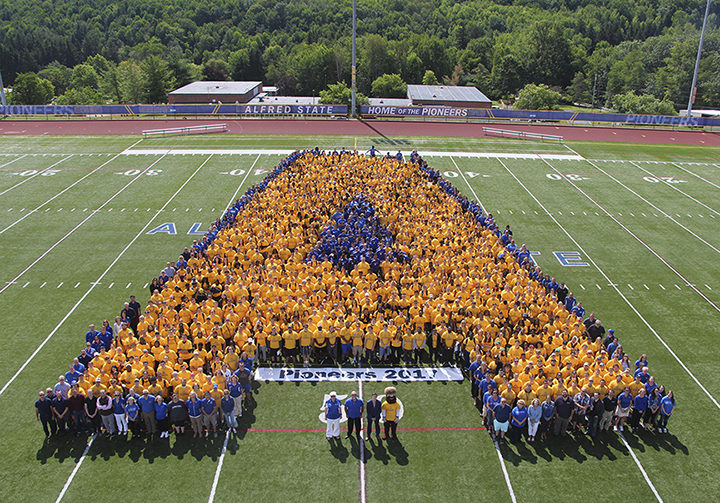 Speaking first to students, Sullivan provided a brief history of Alfred State. He then mentioned ways students can get involved on campus through clubs and civic engagement opportunities, as well as enhance their leadership opportunities and engage in real-world learning.
"I encourage you to commit yourself first and foremost as a 'student'," he said. "At our college, we emphasize hands-on, project-based learning. You won't just sit in class and listen to a lecture. Instead, you'll engage in applied learning through a number of real-world experiences."
Patricia K. Fogarty, College Council chair, encouraged the students to step outside of their comfort zones, learn new cultures and viewpoints, and make a difference in the world.
"A great American president was fond of reciting this biblical quote: 'To those who much has been given, much is expected.'" The advantage of higher education is a great gift. Much is expected of you," she told the assembled students.
Provost Dr. Kristin Poppo, remarked that while being a young adult and leaving home to go to college can be difficult, students will have plenty of help along the way during their journey at Alfred State.
"College is not easy," she said. "But there is no doubt in my mind that each and every one of you can be successful. Our admissions process is rigorous and you have been chosen to be a Pioneer. We are all here to support you. We know you can do it."
Greg Sammons, vice president for Student Affairs, then introduced students to Alfred State's "Principles of Community" and Student Senate President Grant Tinker, an electrical engineering technology major from McGraw, led students, faculty, and staff in reciting the college oath.
After Sullivan's concluding remarks, students, faculty, and staff headed to Pioneer Stadium to create a human Alfred State logo for a photo session, which was followed by food, music, and activities outdoors nearby the stadium.