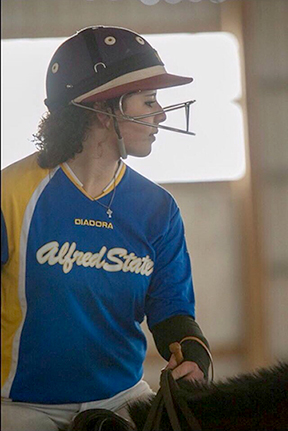 In only its third season, the Alfred State Polo Club received more accolades by making it to the Northeastern Preliminary Tournament, and earning US Polo Association All-Star status for the team's captain, Abigail Campbell (construction management, Geneseo).
"We wanted to congratulate the Alfred State College's team participation," stated David Wenning, intercollegiate/interscholastic (I/I) program chair for the US Polo Association. "The I/I polo program has grown significantly in the last five years, and boasts over 40 intercollegiate polo programs across the US and in Canada. And we would like to recognize the dedication and hard work it takes to run a successful polo program at your school."
"I couldn't be prouder of my team," said Campbell. "The players and coaches all put their best efforts forward. We all really appreciate the support we've been given through both the US Polo Association and Alfred State."
Not only is the polo team successful, but with the continued success of equestrian sports, the college is adding western riding to the Athletic Department's varsity sports starting with the new school year in August. Varsity status shows Alfred State's support of equestrian competition and gives more students opportunities to compete at the highest level in horseback riding.