Alfred State is cooking up changes to its culinary arts program and public dining options. The goals for the improvements are to better prepare Alfred State culinary arts students for the current food services industry, as well as improve the experience for patrons.
As a result, Alfred State will expand lunch fine dining to five days a week and will be open one night per month for unique themed events including both buffet and fine dining options.
According to Deb Burch, chair of the Culinary Arts Department, the new changes this fall will include:
A wider variety of menu options for dietary needs and healthier choices.
Farm-to-table options.
Seasonal presentations.
Themed menus including international cooking and traditions.
Customer point-of-sale devices to expedite service.
Additionally, Burch said, students will be managing the restaurant and preparing the meals under the guidance of multiple faculty members. They will also have a greater opportunity to plan and execute a menu of their design, and will benefit from a progressive team teaching style, giving them the ability to develop and explore a variety of cooking techniques under the tutelage and expertise of chef instructors.
In addition to planning and preparing the meals, students will further benefit from hands-on training in areas related to "front-of-the-house" service, including ordering, presentation, appearance, and professionalism – all focused areas that aim to achieve expert levels of student proficiency.
"The Culinary Arts Department also hopes to be taking on special event caterings, which will teach our students how to accommodate customers and their requests," Burch added. "The goal is to afford our students variety and expertise in all situations, making them invaluable to their employers."
Dr. Skip Sullivan, president of Alfred State, said, "The new changes to our traditional fine dining are another example of how our college is constantly evolving and improving its programs' curricula to meet the current demands of industry. Not only will culinary students benefit, but our patrons will as well, and because of this, we are very excited about the changes going forward."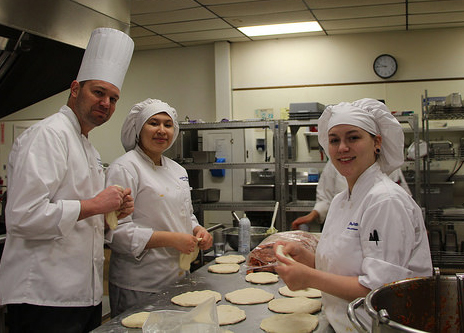 Dr. Kristin Poppo, provost at Alfred State, said attendance for the college's traditional fine dining offering has decreased over the years, which is another reason for the changes.
"I am thrilled by the changes in the culinary arts program, which will maintain training in fine dining, while adding more contemporary trends such as farm to table and international cuisine," Poppo said. "Closer collaboration between our farm and culinary program will truly benefit students in both programs."
Jeffrey Stevens, interim dean of the School of Applied Technology, said, "Maintaining the highest quality of education for our students and excellent service to the public are the focus of these changes. I am pleased to see these enhancements to the dining venue, which will continue to offer our students training exceeding the industry's expectations, while serving the public with new and unique dining experiences."
Alfred State also recently unveiled a newly renovated space for baked goods now called the Hank and Evelyn Turner Pastry Emporium in honor of a longtime supporter of the culinary arts programs. The facility includes a new refrigerated bakery case, as well as a new island cupboard with a granite countertop constructed by building trades: building construction students. The emporium will also be open during weekday lunch hours.