Efforts to help college students cope with stress, have a better focus in class, and be more productive, have earned Alfred State a bronze award in a national competition. NASPA, an association of student affairs administrators in higher education, gave the college this national honor in the category of student health, wellness, and counseling.
"We are pleased to honor Alfred State with this award," stated Kevin Kruger, NASPA president. "The NASPA Excellence Awards were created to recognize student affairs practitioners who develop transformative, innovative, and data-driven programs. Congratulations and best wishes for the continued success of your program."
Hollie Hall, senior director of Health and Wellness Services, said her team is committed to meeting the needs of students through a wellness lens.
"The Journey to Wellness Program is an integral piece to the arsenal of inclusive services we provide here at Alfred State," Hall said. "Additionally, the three MindSpas are an example of the infusion of evidence-based practice and innovation. Winning the NASPA bronze award brings credibility to the Journey to Wellness Program, and I envision future awards as we do more assessment on the effectiveness of this program. Students are learning how to self-regulate emotions, all while experiencing the benefits of self-care."
In an effort to meet the needs of the college community, Health and Wellness Services recognized the importance of providing students with the skills necessary to manage stress. That led to creation of the Journey to Wellness Program to encompass innovative services that focus on student health and well-being to eliminate stress and increase productivity.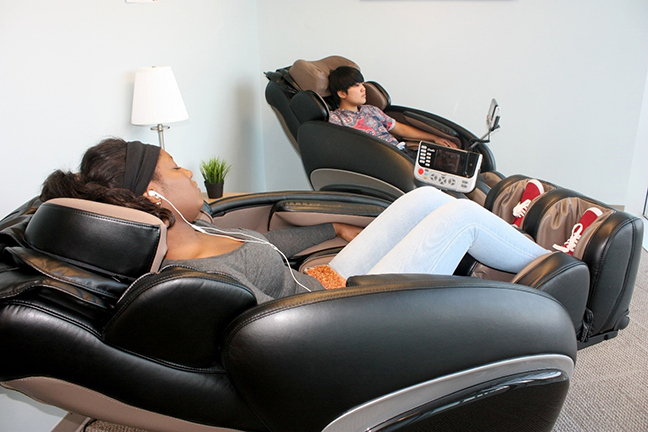 The innovative program began in 2012 when the first MindSpa opened in T.A. Parish Hall. Usage numbers and student satisfaction surveys supported the addition of a second MindSpa in 2014, located on the Wellsville campus in the Pioneer Student Union.
Consistently, student satisfaction survey and usage numbers supported the need for a third MindSpa in 2016, known as the Oasis, which is located in the Student Leadership Center. The Oasis is the hub for Journey to Wellness Programming, and allows students to utilize the MindSpa's complementary and alternative medicine modalities after normal business hours. A MindSpa is a relaxation room that includes complementary and alternative medicine (CAM) modalities such as aromatherapy, biofeedback training, guided meditation, and massage chairs.
The National Center for Complementary and Alternative Medicine (NCAAM) has defined (CAM) as being "a group of diverse medical and health care systems, practices, and products that are not presently considered to be a part of conventional medicine." The response has proven that students are in favor of such services.
NASPA originally stood for National Association of Student Personnel Administrators. The association's description changed to student affairs administrators in higher education, while the acronym has not changed. NASPA Excellence Awards recognize the contributions of members who are transforming higher education through outstanding programs, innovative services, and effective administration.