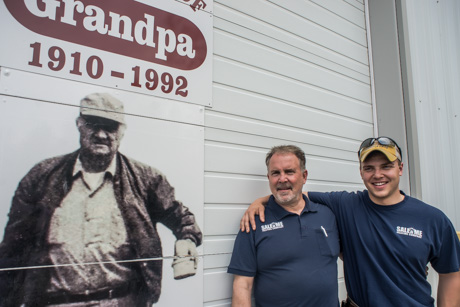 Reprinted with permission. Written by Howard B. Owens, The Batavian.
For more than 70 years, there's been a Sallome in the heating and cooling business in Batavia, and with John Sallome Jr. joining his father's business, the tradition looks to continue for decades more, at least.
"I went to school and all my friends were like, 'it's pretty cool that you get to work for your own family business instead of going to work for somebody else,' " John Jr., said.
The 21-year-old Sallome, the son of John and Marianne, graduated from the heating and air technology program at Alfred State, where he was a top student and received the New York Propane Gas Association Ganey Memorial Scholarship Award and Air-Conditioning and Heating Outstanding Student Award.
After graduating from Batavia High School, John Jr. thought he might like to work in computers, but after starting down that path, he found it didn't really interest him, so he went to his dad and said, "I want to work with my hands like you."
John Sr., who joined the business in 1977 while still in high school, working for his grandfather, decided to put him to the test.
"I took him on some of the worst, dirtiest jobs we ever had and he loved it, absolutely loved," John Sr. said.
John Sr., who has no plans to retire anytime soon, said his son joining the business is "a dream come true."
"It's great that my son has come into the business and I'm looking forward to the future with him," John Sr. said.