Two dozen students, faculty, and staff were recently recognized for their contributions to Alfred State over the past year during the annual award showcase known as the STUEYs.
The event was hugely successful, with a large turnout from the Alfred State community. This year, there were a total of 24 award recipients who were selected for initiatives surrounding civic engagement, culturally inclusive programs, performing arts, Greek life, student engagement, and more.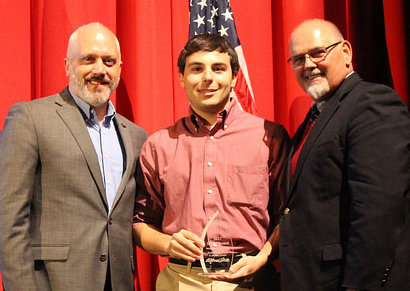 Alfred State President Dr. Skip Sullivan provided the opening remarks for the event, expressing how fortunate he was to be the head of such an outstanding institution where students and staff are so devoted and dedicated in their pursuits. Shortly after, as department representatives called their award winners to the stage, Sullivan and Vice President for Student Affairs Greg Sammons handed out awards to recipients.
The ceremony also featured four student acts spread intermittently throughout night. Abigail Campbell (construction management, Geneseo) sang a breathtaking a cappella rendition of "I Dreamed a Dream" from "Les Miserables." Musician friends, Torin Rockwell (mechanical engineering technology, Elmira) and Spencer Mosier (mechanical engineering technology, Wellsburg) gave a splendid performance of "Wagon Wheel," featuring a banjo and guitar.
The Latin American Dance Team (LASO) provided a stunning dance number, and Alfred State's flow arts and performance group, Cirklarna, closed the night with a spectacular lights show. Instrumental Music, led by Jerry Ives, also played several beautiful pieces throughout the show.
Sammons wrapped up the awards showcase by providing the closing remarks. He noted that the nominees and award recipients who were recognized that evening would go out to be true leaders and "difference makers" in their communities and workplaces after graduating from Alfred State.