More than two dozen Alfred State students and employees were initiated recently into the college's chapter of the Phi Kappa Phi honor society.
Student inductees included:
Sarah Aitchison, architecture, Orangeburg
Tyler Brion, business administration, Wellsville
Kylie Buchek, forensic science technology, Windsor
Rafael Colon, mechanical engineering technology, Penn Yan
Lachelle Cora Cruickshank, nursing, Central Islip
Bryce Cutler, network administration, Newton, NJ
Mark Davis, technology management, Medford
Dillon Fairhead, mechanical engineering technology, Conesus
Matthew Gilmore, technology management, Elmira
Anthony Harvey, technology management, Cameron
Katherine Holmok, business administration, Prattsville
Molly Kase, architecture, Rochester
Ashley Kennedy, human services management, Troupsburg
Brendan O'Connor, applications software development, Rochester
Rebekah Partridge, financial planning, Hornell
Cassandra Ryan, mechanical engineering technology, Gloversville
Carina Scalise, construction management, Baldwinsville
Ryan Schuyler, technology management, Wayland
Jordan Seltzer, business administration, West Valley
Grant Tinker, electrical engineering technology, McGraw
Hannah Vuozzo, interdisciplinary studies, Salt Point
Valerie Wallace, financial planning, Rexville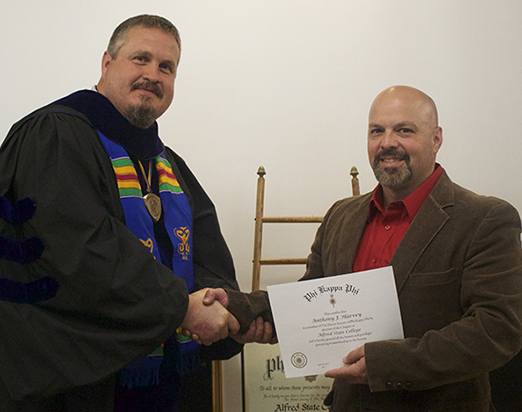 Also initiated were Dr. Karla M. Back, professor, Business Department; Troy W. Morehouse, interim director of Student Engagement; Valerie B. Nixon, executive vice president; and Michael E. Ronan, professor, Automotive Trades.
Dr. Skip Sullivan, president of Alfred State, said, "I am extremely proud to welcome the newest members into the Phi Kappa Phi honor society chapter here at Alfred State. Their hard work and dedication throughout their time at our college has certainly paid off, and I congratulate each one of them on this honor."
Evan Enke, assistant professor in the Computer and Information Technology Department and president of the Alfred State Phi Kappa Phi chapter, said, "On April 24, the Alfred State chapter of Phi Kappa Phi was honored to induct 22 new student members and four faculty members into the nation's oldest, largest, and most selective honor society for all academic disciplines. Surrounded by friends, family and faculty, the new members' academic achievements and campus contributions were recognized by both the Phi Kappa Phi officers as well as by the campus leadership. Phi Kappa Phi is proud to add its newest members, as these inductees embody the organization's motto, 'Let the love of learning rule humanity.'"
Founded in 1897 at the University of Maine, according to www.phikappaphi.org, Phi Kappa Phi is the nation's oldest and most selective multidisciplinary collegiate honor society. It has chapters on more than 300 campuses in the United States and the Philippines.
Each year, around 30,000 members are initiated, and only the top 10 percent of a graduating class and the top 7.5 percent of juniors are invited to join. Alfred State's chapter was formed in February 2015.