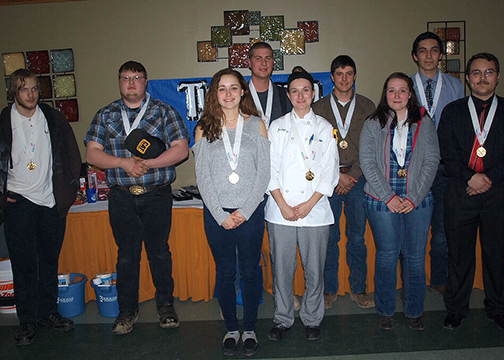 The 2017 SkillsUSA New York State Leadership and Skills Conference Postsecondary Championship, held on Alfred State's Wellsville campus, pitted 50 students from three schools against each other in one of the nation's most prestigious showcases of career and technical aptitude on Saturday, March 25.
Schools competing this year included State University of New York (SUNY) at Alfred State, the State University of New York (SUNY) at Delhi, and the Culinary Institute of America. All competitions took place on the School of Applied Technology campus in Wellsville.
Contests begin locally and continue through the state and national levels. The SkillsUSA state winners are eligible to compete in the 53rd National SkillsUSA Championship, held in Louisville, KY, June 19-23. More than 6,000 students compete in 100 occupational and leadership skill areas.
Winners from the March 25 championship, by competition, are as follows:
AUTOMOTIVE REFINISHING –
THIRD PLACE winning the BRONZE MEDAL: Matt Caraher, Cicero (Alfred State)
SECOND PLACE winning the SILVER MEDAL: Anthony Black, Alfred (Alfred State)
FIRST PLACE winning the GOLD MEDAL: Jacob Knapp, Dansville (Alfred State)
AUTOMOTIVE SERVICE –
THIRD PLACE winning the BRONZE MEDAL: Joe Millspaw, Findley Lake (Alfred State)
SECOND PLACE winning the SILVER MEDAL: Christopher Dean, Manchester (Alfred State)
FIRST PLACE winning the GOLD MEDAL: Michael Burdick, Webster (Alfred State)
CARPENTRY –
THIRD PLACE winning the BRONZE MEDAL: Chris Stevenson, Binghamton (Alfred State)
SECOND PLACE winning the SILVER MEDAL: Dakota Matthie, Madrid (Alfred State)
FIRST PLACE winning the GOLD MEDAL: Nicholas Most, Endicott (Alfred State)
COMMERCIAL BAKING –
THIRD PLACE winning the BRONZE MEDAL: Megan Farr, Bath (Alfred State)
SECOND PLACE winning the SILVER MEDAL: Alicia Sailer-Dolan, Geneseo (Alfred State)
FIRST PLACE winning the GOLD MEDAL: Andrea Koston, Rochester (Alfred State)
CULINARY ARTS –
THIRD PLACE winning the BRONZE MEDAL: Yveline Vergin, Brooklyn (Alfred State)
SECOND PLACE winning the SILVER MEDAL: Jonathan Korn, Poughkeepsie (Culinary Institute)
FIRST PLACE winning the GOLD MEDAL: Jocelyn Carns, Perrysburg, OH (Culinary Institute)
DIESEL TECHNOLOGY –
FIRST PLACE winning the GOLD MEDAL: Maxwell Morrell, Sanborn (Alfred State)
ELECTRICAL CONSTRUCTION WIRING –
THIRD PLACE winning the BRONZE MEDAL: Ryan Dunkle, Orchard Park (Alfred State)
SECOND PLACE winning the SILVER MEDAL: Ethan Yanda, Wayland (Alfred State)
FIRST PLACE winning the GOLD MEDAL: Cole Smith, Collins (Alfred State)
MASONRY –
THIRD PLACE winning the BRONZE MEDAL: Brenton Yager, Falconer (Alfred State)
SECOND PLACE winning the SILVER MEDAL: Mitchell Carr, Campbell (Alfred State)
FIRST PLACE winning the GOLD MEDAL: Brandon Cline, Belmont (Alfred State)
TECHNICAL DRAFTING –
FIRST PLACE winning the GOLD MEDAL: Richard Baer, Olean (Alfred State)
WELDING –
THIRD PLACE winning the BRONZE MEDAL: James Fyock, Bliss (Alfred State)
SECOND PLACE winning the SILVER MEDAL: Jake Ingalls, Cuba (Alfred State)
FIRST PLACE winning the GOLD MEDAL: Lindsey Hall, Wellsville (Alfred State)
WELDING SCULPTURE –
FIRST PLACE winning the GOLD MEDAL: Bradley Layton, Oneonta (Delhi)