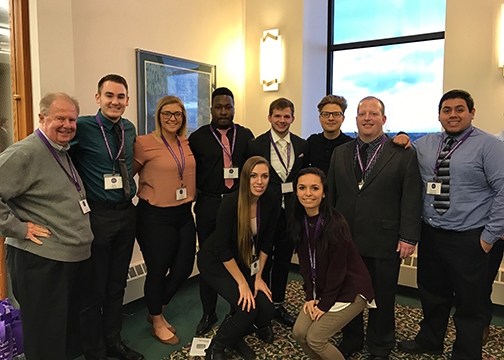 Getting the chance to learn from and network with industry professionals, a group of Alfred State sport management students recently attended the inaugural Niagara University Sport, Recreation, & Tourism Summit.
Held at Niagara University, the event allowed students to interact with sport management professionals, and attend panel discussions and keynote addresses from amateur, recreation, intercollegiate, and professional sport industry experts. Areas of expertise included marketing, brand management, media relations, sport communications, digital content, intercollegiate athletics, sport events, and tourism.
John Lisec, assistant professor in the Business Department, said the summit provided these students with "a truly unique and special opportunity to gain insightful information and network with premier sport industry professionals with countless years of experience and perspective."
On-hand industry experts were from Adidas, College Football Playoff, NBC Sports, PGA of America, Buffalo Sabres, Montreal Canadiens, New Era Cap, KeyBank Center, University of Iowa, University at Buffalo, Wasserman Media Group, Niagara Sport Commission, and Niagara Ice Dogs. Keynote speakers included Jeremy Darlow, director of marketing at Adidas, and Gina Lehe, senior director of communications and brand management at College Football Playoff.
Ryan Mills, of Massapequa, said the summit was a great experience and noted that the lineup of speakers was very impressive and well-rounded.
"There were professionals who specialize in event management, social media, marketing, brand management, sports commissions, and more," he said. "I was exposed to unique insight into the industry of sports, and I was able to expand my network by meeting a lot of very successful people. Many thanks to Niagara University for hosting the event, and I look forward to the possibility of attending again next year."
Jared Williams, of Rochester, credited the summit with "taking my networking experience to a whole new level," as he was able to make connections both on LinkedIn and in person.
"It was more than asking for business cards and contact information," he said. "It was about making a connection with the brand representative, and our Alfred State sport management students did a wonderful job building those relationships."
In addition to Williams and Mills, other Alfred State sport management students who attended included Cassidy McCourt, of Buffalo; Kenny Bello, of Brooklyn; Fernando Ramos, of Yonkers; Madison Szpaicher, of Ellicottville; and Leigh Swartzfager, of Nunda.