For those looking to escape the cold and dark winter in Western New York, Ivy Stevens-Gupta's colorful paintings currently on display at Alfred State's Hinkle Memorial Library offer warmth and energy.
Stevens-Gupta's solo exhibition, "Winter Escape: Color Me Happy," includes 25 paintings ranging in size from 10 inches by 10 inches to 48 inches by 48 inches. The exhibit is on display now through March 3, and is open for viewing during normal library hours.
According to Stevens-Gupta, color plays an integral role when designing her work, and has tremendous expressive qualities that can alter people's moods.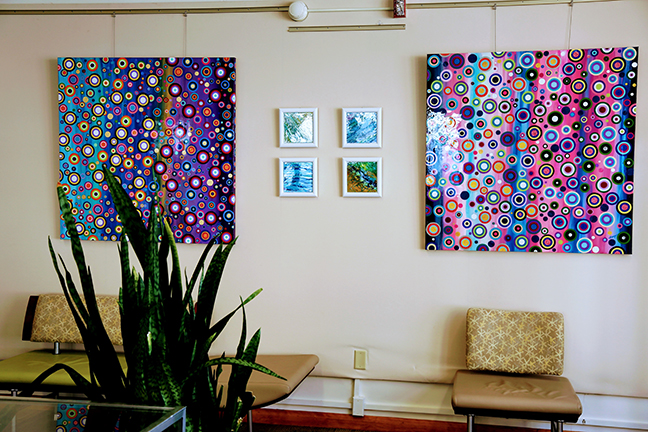 "My acrylic paintings are a continued exploration of the psychology of art from my graduate studies," she said. "I like to explore how color affects the brain and how science and digital technology have influenced how we perceive images."
Stevens-Gupta's visual odyssey in her paintings focuses on exuberant colors, textures, shapes, and space. When creating her artwork, she focuses on a cornucopia of colors in highly distinctive aesthetic patterns.
"My process includes several layers of paint on canvas, which is often emblazoned by metallic and iridescent overlays, glitter, glass, beads, gold leaf, and miscellaneous mixed media," she said. "I then apply a clear coat of high-gloss polymer epoxy resin that offers the duality of sealing in the artwork while making the colors pop by reflecting light. The result is a luxurious composite that is full of energy and captivating interplay of colors."
After studying art at Alfred University, Stevens-Gupta received her AAS in business administration from Corning Community College, a BS in marketing and an MS in liberal studies from SUNY Empire State College, and a certificate in interior design from Interior Design Institute. She is a former advertising manager for Gannett Newspaper Division and corporate relations director for Johnson at Cornell University.
Stevens-Gupta currently teaches color theory and painting, and works as a marketing consultant. Her vibrant paintings can be found in homes and offices all over the world and have appeared in several books on contemporary international artists. Her Ithaca studio is open by appointment. To view her work online, visit Ivycreativedesigns.com.
In addition to her exhibit, Stevens-Gupta will present in the spring 2017 lecture series of the Architecture and Design Department at Alfred State on Feb. 9 at 5 p.m. During her presentation, "Color Matters: Introduction to Color Theory," Stevens-Gupta will discuss how color is used in global marketing, the psychological and cultural connotative properties of color, and the science behind color.
The event is free and open to the public, and will take place at the college's Orvis Activities Center Auditorium. A reception will follow from 6:30 to 7:30 p.m. at the Hinkle Memorial Library, during which refreshments will be served.
To inquire about exhibiting your work in the Hinkle Gallery, email library@alfredstate.edu or call 607-587-4313.