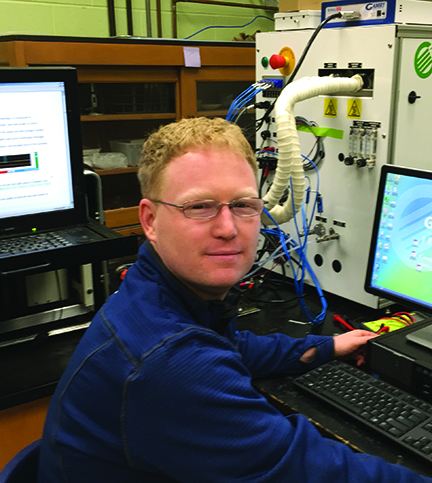 For his role in developing a new environmentally friendly cooling system, Dr. Jon Owejan, an assistant professor in Alfred State's Mechanical and Electrical Engineering Technology Department, has recently been nominated as a Campus Connector for the 2016 Upstate Venture Ecosystem Awards.
The organizers of the awards, Upstate Venture Connect (UVC), received more than 100 submissions celebrating entrepreneurial leaders throughout Upstate New York who are transforming the region's economy.
"This is a clear sign of how our ecosystem has become more connected and inclusive with so many entrepreneurial leaders emerging to transform their communities, and the region as a whole," said UVC Founder and Venture Catalyst Martin Babinec.
Winners, chosen by an independent panel of judges, will be announced at a special luncheon event held at Turning Stone Resort in Verona on Sept. 16, featuring keynote speaker Tim Keenan, co-founder of the Keenan Center for Entrepreneurship.
Owejan's nomination comes after he, Mechanical and Electrical Engineering Technology Department Chair Dr. Matthew Lawrence, and Nathan DeMario, a mechanical engineering technology student from South Wales, worked to develop a cooling and dehumidification system that does not use chemical refrigerants and compressors to carry heat out of buildings. The goal was to improve energy efficiency while eliminating the harmful impact that hydrofluorocarbon (HFC) refrigerants have on global warming.
As part of the commercialization effort, a start-up company called Phase Innovations was formed with the intent to launch a product that will significantly reduce operational and maintained costs relative to conventional systems. For more information, visit phaseinnovations.com.
Owejan noted that technology transfer activities are an ideal catalyst for engaging engineering students in purpose-driven learning.
"The successes of these activities are highly dependent on the strong entrepreneurial network in upstate New York," he said.
Speaking about Owejan's award nomination, Lawrence said it represents an overdue recognition of one of Alfred State's best young faculty.
"Jon has excelled in every possible way during his time here, and this nomination demonstrates his successes reach far beyond the classroom," Lawrence said. "Dr. Owejan has, in addition to his regular duties as a professor, pursued this applied research not just in the classroom and lab, but he is actively leading a team through NEXUS-NY, a very competitive seed accelerator program based in Rochester.
He added, "Jon is as good as an engineering technology professor can be. His expertise in his field is world-class, his passion for his discipline is evident in his classroom instruction, and he involves students in his many cutting-edge research initiatives."