After traveling thousands of miles in a controlled-speed endurance rally known as The Great Race, Alfred State came away with a third-place finish in the X-Cup division with its 1953 Dodge Power Wagon tow truck.
Beginning in San Rafael, CA on June 18, a total of 109 teams ventured across eight states in nine days for the race, finishing up in Moline, IL on June 26. The event tests teams' abilities to follow precise course instructions and their vehicle's ability to endure on a cross-country trip.
For the second straight year, Alfred State competed with the Power Wagon in the X-Cup division, which is designed for high school and college teams, with the goal of creating enthusiasts who will strengthen the antique car hobby. To compete in the division, a team's driver must be between the ages of 21 and 25, and each navigator must be a member of a high school/college/ youth group team and be younger than 22 years old.
The Power Wagon team included Nick Reale, autobody repair, Jamestown; Ryan Valle, motorsports technology, New Windsor; and Sam Holevinski, heavy equipment, truck and diesel technician, Canisteo. According to Kent Johnson, chair of the Automotive Trades Department, the vehicle performed almost flawlessly along the way, with only one issue.
"The engine is small, so it has limited power," said Johnson, who served as the Alfred State faculty adviser during the trip. "In a time/speed/distance rally competition, maintaining a consistent speed is critical. A consistent speed is not possible in a 6000-pound truck that is trying to climb the Sierra Nevada and Rocky Mountains. Next year, the truck will have more power."
The college also partnered with a family from Illinois to enter a 1928 Model A Speedster in the race. The Speedster, which had competed from 1998 to 2003, was driven and navigated by Stephen Krolak, heavy equipment, truck and diesel technician, Palmyra; Nick Shelp, automotive service technician, Endicott; and Kyle Hayes, automotive service technician, Buffalo.
Prior to the start of the race, the Antique Automobile Club of America (AACA) provided a $1,500 grant that was used for the Power Wagon's travel expenses, and Reliable Carriers sponsored transportation of the Model A, a value of more than $2,000. In addition, the AACA later awarded four X-Cup scholarships to Alfred State students based on a team's finishing position, with Holevinski receiving $2,000, and Hayes, Krolak, and Shelp each receiving $280.
Also supporting Alfred State in the Great Race were the Model A Restorers Club (MARC) and the Chemung Region AACA.
While the Power Wagon group faced a speed issue and the Speedster squad battled a problem with a connecting rod, Johnson said both teams did a great job in the competition overall.
"This is really an endurance event, so it was exhausting, but the students had a lot of fun and I think we were able to make connections that will help us move our program forward," he said. "Additionally, this event gets a lot of press, so Alfred State got a lot of national exposure along the way."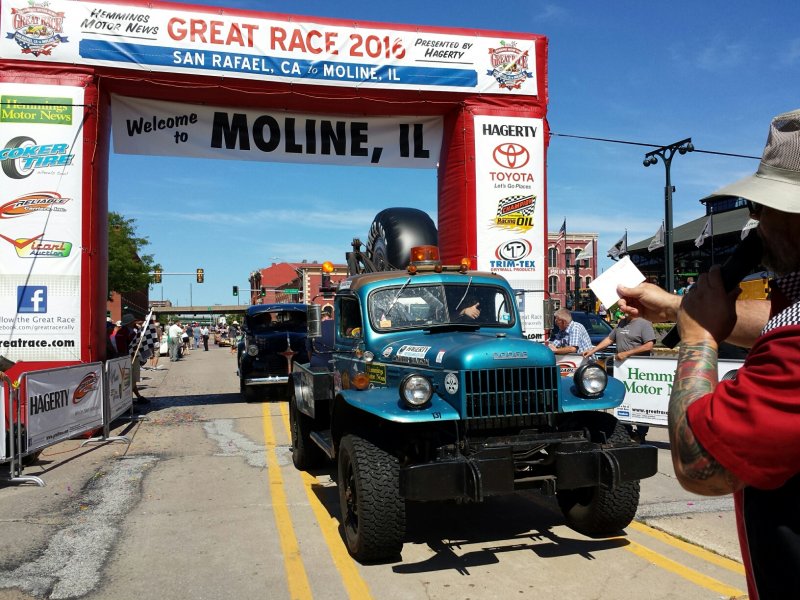 Caption: Alfred State's 1953 Dodge Power Wagon tow truck crosses the Great Race finish line in Moline, IL on June 26. The Power Wagon finished third in the X-Cup division.