When Alfred State determined that the largest residence hall on campus, the MacKenzie Complex, was due for a makeover, the design came from a very fitting source: architects who not only attended the college, but also lived in MacKenzie themselves. Their personal experiences offer a unique insight into what should be done to transform the residence hall to meet the needs of students both today and tomorrow.
"It adds a lot of excitement to my role in getting this accomplished," said Mach Architecture Executive Vice President Douglas Schaefer, a 1985 architectural technology graduate. "It's also a giving back to the college. As an architect, everything I do affects somebody's life down the road with those spaces I build. Now, with MacKenzie, I know who it's affecting."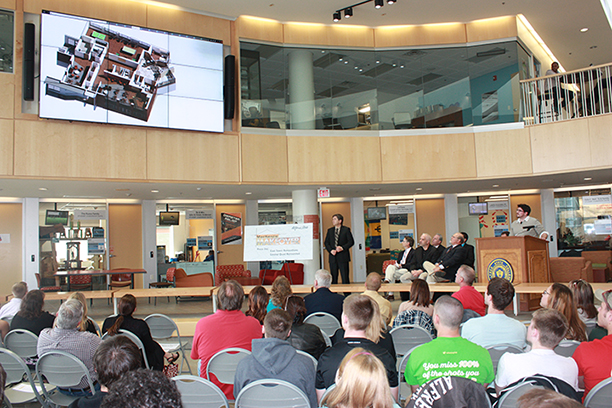 Schaefer along with Mach Architecture Associate Robert Brunner, a 2008 architectural technology graduate, recently unveiled plans dubbed the "MacKenzie Makeover" to a crowd of students, faculty, and staff.
Schaefer explained how the first phase of the project will involve renovating the East Tower to create a new entrance and gathering spaces for students on each floor, while reinventing the Central Quad to create an attractive core for the 1,200-student residence hall that is warm, welcoming, and feels like an extension of one's own home. The quad's design includes a 35-foot-tall atrium with the light illuminating natural surfaces of rock and wood throughout.
When compared to other residence halls across the state, MacKenzie will be in a class all of its own. Eric Gerken, Dormitory Authority of the State of New York (DASNY) design manager, said that beginning in the fall of 2016 and continuing over the next several years, "this phased project will reconstruct MacKenzie into the largest, most modern dorm across the SUNY system."
Gregory Sammons, vice president for Student Affairs, added that the goal of the renovation is to make the college's largest residence hall the first choice for students. And Dr. Skip Sullivan, president of the college, stated, "Today certainly serves as a reaffirmation of our commitment to continuously advance our campus. The desire to continue to improve certainly is based on a single focus and that is making the experience even greater for our students."
Talking about the next steps in the process, Glenn Brubaker, director of Facilities Operations, said, "As this project goes out for bids, we can get this off the ground this fall, with the construction fences up and the construction zone established when students return."
"We are optimistic that this project will make MacKenzie the hub of a vibrant living community on campus and we look forward to moving ahead," stated Matt Ryan, senior director of Residential Services, as he noted that MacKenzie will remain open for business during the construction.
Dave Sengstock, executive director of Auxiliary Campus Enterprises and Services, Inc. (ACES), talked about changes due to the closure of MacKenzie's Exit West Café, stating, "In response, we will be extending the hours of operation for dining facilities all across campus with nighttime offerings, and introducing a new food truck to serve the Alfred State campuses and in particular the area surrounding MacKenzie."
During construction, a central laundry in the quad will be replaced with multiple smaller laundry areas and vending options closer to the residents' rooms. Then when the reinvented central quad opens, students will gain new amenities, including a large laundry, dining services, and a fitness center.
Brunner said it is "almost breathtaking" to be a part of this massive project. He said having an inside knowledge from their student years has definitely given him and Schaefer an edge with helping to create the new design because they understood MacKenzie.
"It's great having that inside knowledge of the building and being able to work on it and make it better," Brunner said. "It's architecture at its best."