State University of New York Chancellor Nancy L. Zimpher honored 248 SUNY students from across the state in Albany Tuesday, April 5, with the 2016 Chancellor's Award for Excellence, including two students from Alfred State.
"This award is our way of saying 'thank you' to stand-out SUNY students whose achievements reflect their own impressive hard work as well as the support of their families and friends, and SUNY's world-class faculty and staff," said Zimpher. "The 248 students we honor with this year's award have excelled academically, become role models on campus, and established themselves as leaders in the community. Congratulations to all of the students receiving the 2016 Chancellor's Award for Excellence."
Joining the chancellor to recognize the students for their achievements via a video message was NASA Astronaut Scott Kelly. In his video, Kelly mentioned the ways in which his time at SUNY Maritime College prepared him for the challenges he faced during his year in space, as well as a successful 29-year career in government.
The two Alfred State students who received the Chancellor's Award for Excellence were Katelynn Andera, a forensic science technology major from Ellicottville; and Anna Campbell, a technology management student from Geneseo.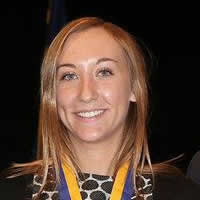 Growing up, Andera spent most of her time playing sports, working on her family farm, and enjoying time with her extended family. As a student, Andera has been active in research conferences and events on campus and state-wide. She has received honors and awards in academic excellence, leadership, athletics, and community service. Her future plans are to become a high school teacher using her degree in forensic science technology to teach biology, chemistry, and forensics.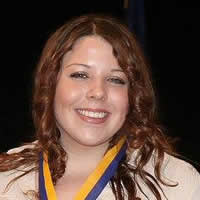 One of 10 children, Campbell enjoys spending time with her family, playing guitar, and writing music. She has been involved in equestrian polo from a young age, and is currently interning with the United States Polo Association. Campbell was the founder and captain of the Alfred State's women's polo club, and has received national awards for collegiate and athletic excellence. She has served on campus student engagement committees, was a recipient of the Phi Theta Kappa Transfer Scholarship, and is passionate about helping those around her.
The Chancellor's Award for Student Excellence was created in 1997 to recognize students who have best demonstrated, and have been recognized for, the integration of academic excellence with accomplishments in the areas of leadership, athletics, community service, creative and performing arts, campus involvement, or career achievement.
Each year, SUNY campus presidents establish a selection committee, which reviews the accomplishments of exemplary students. Nominees are then forwarded to the Chancellor's Office for a second round of review. Finalists are then recommended to the Chancellor to become recipients of the award. Each recipient receives a framed certificate and medallion, which is traditionally worn at Commencement.