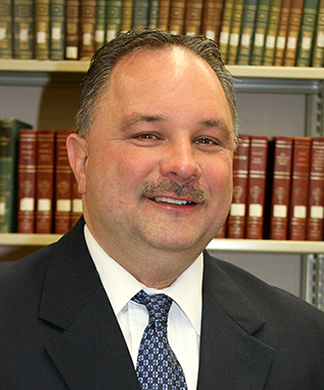 President Dr. Skip Sullivan has appointed Matt Heller chief of the State University Police at Alfred State effective April 7. Heller first came to the campus as a patrol officer in 1996, was promoted to lieutenant, then interim assistant chief of police, and most recently served as interim chief of police.
"Keeping all of our students, faculty, staff, and visitors safe is a top priority on campus, and throughout his 20 years of service, Matt has excelled in both his operational knowledge and leadership skills," stated Sullivan. "For our police force to be effective we need a leader who can handle the many challenges he may face, from effectively managing emergency calls to adeptly interacting with everyone from students to fellow police organizations. In Matt we have a dedicated and service-oriented professional who has earned our trust."
Heller also has 15 years of municipal policing experience with the Angelica and Andover Police Departments. His involvement with local police surrounding Alfred State aids in the coordination and collaboration between agencies. His awards and honors include recognition as past recipient of the Allegany County Top Cop award, New York State DCJS Accreditation Council, SUNY Police Meritorious Service Award, and the Alfred State Pioneer Award for his commitment, role modeling, high level of performance, and positive impact on the college.
After earning an associate degree in criminal justice at Finger Lakes Community College, Heller achieved a bachelor of science in management at Houghton College, and is a graduate of the police academies in Albany and Batavia. Heller holds dozens of certificates related to law enforcement including specialized areas of expertise such as fair and impartial policing, communicable diseases, weapons of mass destruction, and cyber bullying.
"We are very proud of the officers who work so diligently to protect and serve Alfred State, and I'm certain that in his new role as chief, Matt will work tirelessly to keep his team alert, responsive, and ready to show the community how dedicated they are to maintain a safe and secure environment," added Greg Sammons, former chief of police and vice president of Student Affairs.