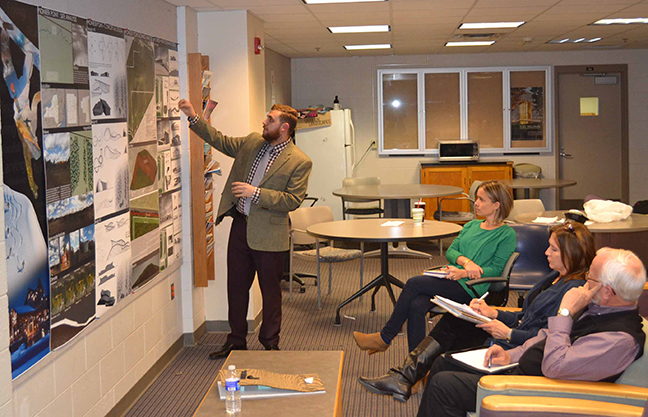 Six fifth-year architecture students in Alfred State's first-ever Bachelor of Architecture class presented progress drawings and models to industry professionals as part of their Design Studio 7 – Thesis Definition course work late last semester.
The presentations built on previously completed work that included developing a thesis abstract and performance program for their proposed projects, and an illustrated site exploration of a chosen site. Each student discussed project proposals in terms of their initial research and inspiration, site analysis, conceptual development, and schematic design alternatives. Project proposals ranged from a lacrosse stadium on Long Island, to a municipal complex in Geneseo, to a church in Brasilia, Brazil.
The students presented their thesis proposals to a design jury that included Leticia Fornataro, associate AIA, of SWBR Architects; Bud Knapp, AIA, of Nehemiah Design; and Professors Sue Akiyama; Richard Carlo, AIA; and William Dean, AIA, the course's instructor. This was the second time that Fornataro and Knapp provided valuable feedback to the students on their work in progress. Akiyama is the students' instructor for the second part of the capstone project, Design Studio 8 – Thesis Definition, currently taking place this semester.
The mission of the Department of Architecture and Design is to provide a career-focused, project-based education, integrating theory and practice with a strong multidisciplinary foundation that draws upon an institutional heritage of building and technology. Emphasizing core values of leadership, professional preparedness, and work ethic, experienced faculty offer personal instruction and guidance to students as they collaborate with real people to explore real challenges across the region and beyond.
The department offers four degrees; an Associate in Applied Science (AAS) in interior design, an AAS in architectural technology, a Bachelor of Science (BS) in architectural technology, and SUNY's first five-year Bachelor of Architecture (BArch). The emphasis on all programs in the department is to create good design for the social good.
In photo from left to right are Alfred State Bachelor of Architecture (BArch) student Nicholas Galatioto of Garwood, NJ, presenting his fifth-year thesis proposal to Leticia Fornataro, associate AIA, of SWBR Architects; Alfred State Professor Sue Akiyama; and Bud Knapp, AIA, of Nehemiah Design.