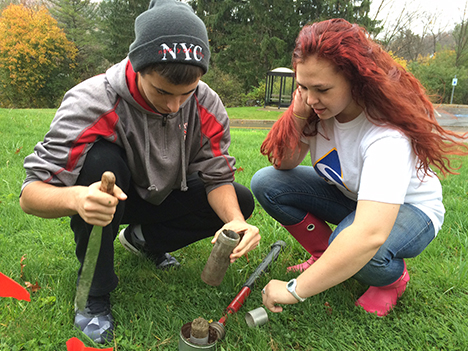 A group of students in Lecturer Jessica Hutchison's botany class last semester were able to help NASA with a project that was truly out of this world.
The Soil Moisture Active Passive (SMAP) program involves an orbiting observatory (satellite) that measures the amount of water in the top 2 inches of soil everywhere on Earth's surface while traveling in a polar orbit around the globe.
By taking frequent and reliable soil measurements, SMAP will help improve the predictive capability of weather and climate models, according to NASA's description of the mission. SMAP, NASA states, will assist with monitoring drought; predicting floods; assisting crop productivity; improving weather forecasting; and detailing water, energy, and carbon cycles.
In order to verify the satellite's findings, Alfred State students and others at various points around the globe collect data and enter it into the Global Learning and Observations to Benefit the Environment (GLOBE) Program's website at www.globe.gov, where it is viewed by NASA scientists.
Brian Campbell, senior NASA earth science education specialist, said the SMAP satellite uses an onboard radiometer sensor to measure how much water is in the soil. The combination of satellite measurements and ground-based ones provides the science community at NASA and beyond with a much more robust soil moisture dataset.
"We can take the GLOBE student measurements of volumetric soil moisture, obtained through the SMAP Block Pattern Soil Moisture Protocol, and compare them to the SMAP satellite data," Campbell said. "GLOBE students can also compare their data to that of the SMAP satellite data. This is a vital technique that will help validate the SMAP satellite data for users all across the planet and help us better understand how our planet works."
Alfred State is one of 30 schools around the world taking part in the project, and the only one in New York State. Countries of other participating schools include the United States, Croatia, Puerto Rico, Egypt, Trinidad and Tobago, Oman, and Italy.
To collect the ground-based data, nearly every day beginning in October, a student collects a small sample of soil outside the college's greenhouse, takes it inside the Agriculture Science Building, and weighs it. The student then places the soil inside a drying oven set at 100 degrees Celsius for 24 hours. The sample is removed from the oven, weighed again to determine how much water it originally held, and that data is entered online.
Kayana Fonseca, an agricultural technology major from Nashville, TN, one of four Alfred State students who worked on the project, said she and the others used a chart in order to determine when the satellite is flying overhead. The students then had to take a ground sample within three hours.
"We are the ones from this area who are taking the samples and entering in the data," she said. "It's no one else's job, so I think it's pretty cool. Looking online and seeing the locations where this is being done all over the country and all over the world, it's just nice to know you're part of something bigger."
Peter Meyer, an agricultural business major from Long Island, said he never thought he would be working on a project for NASA, and jokes that when he tells people about it, they don't believe him.
"I can't believe it myself," he said. "It's awesome."
The two other students who worked on the project during the fall 2015 semester were Trevor Hoffmier, agricultural business, Newark Valley; and Noelle Pomfrey, agricultural technology, Alfred.
Going forward, Hutchison said she plans to continue the project with her spring 2016 semester soils class students, though acknowledges they won't be able to take any soil samples when the ground is covered in snow.
"I think it's been really great," Hutchison said of the experience her students have been having with the project. "Ever since I came to this college, I've been looking for ways for students to get involved outside of the classroom because applied learning is really emphasized here. I think the students make good contacts, they have something really cool to put on their resume, and they develop some real-world skills through this project."
In photo above: Peter Meyer, an agricultural business major from Long Island, and Kayana Fonseca, an agricultural technology major from Nashville, TN, take a sample of soil to analyze as part of their involvement in NASA's Soil Moisture Active Passive (SMAP) program.