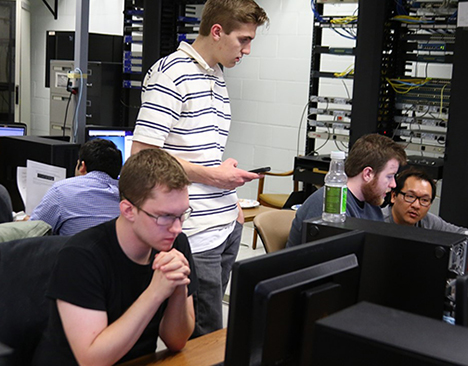 Students from four colleges put their cyber security skills to the test Dec. 6 at Alfred State during the ASIST Cyber Security Capture the Flag Competition.
Held in the Engineering Technology building on the Alfred campus, the event featured two teams from the State University of New York at Buffalo, one from Syracuse University, two from the Rochester Institute of Technology, and two from Alfred State. Each squad had five members.
During the competition, teams earned points for penetrating a network using cyber security penetrating applications. All of the networks were running on Alfred State's own virtual data center.
One of the goals was to set off a building fire alarm by hacking into a simulated IBM mainframe computer. Each network featured a real fire alarm that was rigged to ring if students were successful in penetrating the mainframe. Markus Hall, an applications software development major from Hornell, designed and built the fire alarms, which ran on a Raspberry Pi - a low-cost, credit-card-sized computer.
The competition, which was organized by Alfred State Information Security Team (ASIST) members, allowed participants to understand the technology and thought process of hackers, while also sharpening their security skills and learning new techniques. In the end, two teams from RIT took first and second place, with an Alfred State group coming in third, followed by Syracuse University in fourth.
Jim Boardman, assistant professor and chair of the Alfred State Computer and Information Technology Department, said the students "loved" the competition.
"Thanks to the hard work of our ASIST club, it was a giant success," he said.
Robert Symonds, a network administration major from Woodhull, agreed.
"The competition was really successful," he said. "It went very smoothly. I thought it was very challenging and I learned quite a bit about Linux computer systems and how to better safeguard networks in the future."
Conor Mitchell, ASIST president and a network administration major from Binghamton, said ASIST members had a great time organizing the event and received a lot of positive feedback afterward.
"I personally believe that a security professional in today's IT field cannot truly understand the defending of a network without first understanding how a network is attacked," he said. "Competitions like this really allow students to put themselves in the shoes of an attacker in a fun and educational way. Cyber security is not limited to just one IT discipline; it's all-encompassing. And I think that by allowing our students this opportunity and exposure, they become vastly more valuable in today's workforce."
In photo above, three Alfred State students, from left to right, Mitchell Skinner, network administration, Tonawanda; Riley Robbers, computer information systems, Almond; and Chris McCormick, cyber security, Henderson, NV.