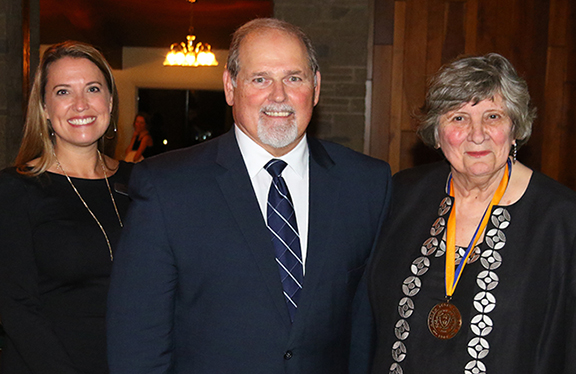 SUNY Distinguished Teaching Professor Dr. Aniko Constantine was presented with the Alfred State President's Medallion Saturday, Nov. 7 at the Alfred State Lake Lodge, where she celebrated with friends, family, and fellow Alfred State colleagues.
The college's President's Medallion was instituted in 2008 and is awarded to those who have made outstanding contributions to Alfred State. The college recognizes and commemorates the efforts of supporters and advocates dedicated to the mission of Alfred State.
Constantine joined Alfred State as an assistant professor of English in 1974 and six years later was named a SUNY Chancellor's Award winner for excellence in teaching. She has received a number of other awards and honors in her career, including the Jaime Escalante Award for Teaching in 1989, being named a SUNY Distinguished Teaching Professor in 1997, and earning with the Alumni Association Outstanding Faculty Award in 2010.
Other honors include the National Endowment for the Humanities Summer Fellowship at the University of Pittsburgh to study theories of writing, an appointment to the SUNY Scholars Panel for Writing Assessment, and being treasurer and executive board member of the SUNY Writing Council for 25 years.
Over the years, Constantine has taught a number of courses at Alfred State, including introduction to composition, introduction to literature, short story, gender and identity in literature, and images of women in fiction, which she created. Through an outreach program, Constantine even once taught Vietnam veterans.
In the last 20 years, Constantine has endowed a number small scholarships at Alfred State, as well as a memorial scholarship for her son Paul Edward Constantine Jr., and a scholarship for Educational Opportunities Program students. Her largest donation is an unrestricted $100,000 annuity legacy gift.
Constantine earned her bachelor's degree in English from Hartwick College in 1965, and her master's and PhD, both in English, from the University of Illinois Urbana-Champaign campus in 1966 and 1972, respectively.
In photo above, Alfred State SUNY Distinguished Teaching Professor and 2015 President's Medallion recipient Dr. Aniko Constantine, right, is pictured, along with President Dr. Skip Sullivan and Danielle White, executive director of Institutional Advancement.