Dozens of Alfred State faculty, staff, students, and community members packed into the Student Activities Center on the Wellsville campus on Veterans Day to show their support for veterans and to listen to retired US Army Brig. Gen. Arthur Austin Jr. give a speech.
After acknowledging soldiers and their families and encouraging veterans to share their stories, Austin delivered a simple, yet powerful message: "Be a part of the solution for a better world."
"I was well-known for challenging my young officers and enlisted personnel and figuring out if they were part of the problem or part of the solution, and believe me, I had no problem in identifying which side they fell on," he said.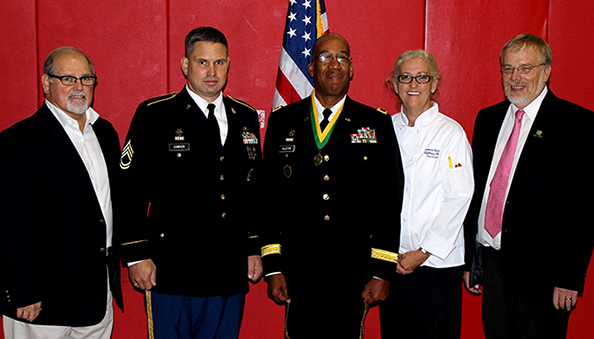 The retired brigadier general then acknowledged Alfred State students, saying, "They are our future. They are part of the solution for a better tomorrow."
Austin spent more than 37 years in the military before retiring as the deputy commanding general of the 46th Police Command in Lansing, MI on Oct. 31, 2014. Originally from Detroit, he now resides in Cuba, NY, with his wife, Karen.
The retired brigadier general, who commanded and oversaw dining facility operations in both state-side and overseas operations while in the military, also talked about opportunities in culinary arts from a military perspective.
He concluded by saying, "Do your best. If you do your best, you never have to wonder or worry if you're part of the problem or part of the solution."
After Austin's remarks, Evelyn Turner, the 2013 Alfred State President's Medallion recipient and founder of the Evelyn Turner Culinary Arts Annual Scholarship, presented a check for $5,000 to the LEEK Hunting and Mountain Preserve for disabled veterans. A bake sale was also held throughout the day at the same location to raise money for LEEK, located in Potter County, PA.
Pictured from left to right are Alfred State President Dr. Skip Sullivan, US Army Sgt. 1st Class Darrin Cowher, retired US Brig. Gen. Arthur Austin Jr., Culinary Arts Associate Professor Debra Burch, and Executive Director and Dean of the School of Applied Technology Dr. Craig Clark.