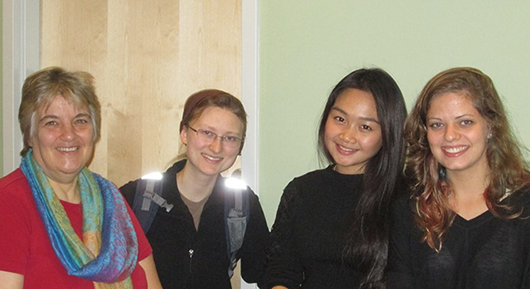 Dr. Nadine Hoover met with members of the Honors Program at Alfred State Sept. 10 to discuss her 35 years of working for peace in war-torn countries around the world.
Hoover, a longtime Alfred resident, coordinates Friends Peace Teams in Asia West Pacific; maintains a massage therapy practice in Alfred; and directs the Conscience Studio, a publishing company and online art and book store; to support training in how to live as individuals and communities of conscience.
According to Hoover, "Wherever there is war, there are children, and the trauma of war stays with people for generations. We believe peace is not only possible, but absolutely essential if this world is to survive."
Pictured is Dr. Nadine Hoover, along with three members of the Alfred State Honors Program. From left to right are Hoover; Natalia Sytch, a veterinary technology major from Rochester; Ivory Humutowo, a business administration major from Jakarta, Indonesia; and Ashley Marino, a culinary arts: baking, production and management major from Victor.