Six architectural technology students from Alfred State presented at the annual Appalachian Teaching Project (ATP) conference last month in Washington, DC.
The six seniors presented on the work they did last semester as part of a course called Design Studio 5: Urban Design in which they worked closely with residents and community leaders in the nearby community of Bath. The students created architectural plans for the community which were well received and may be considered for future implementation.
Led by the Consortium of Appalachian Centers and Institutes, the ATP offers students a unique opportunity to conduct active community-based research on their campuses.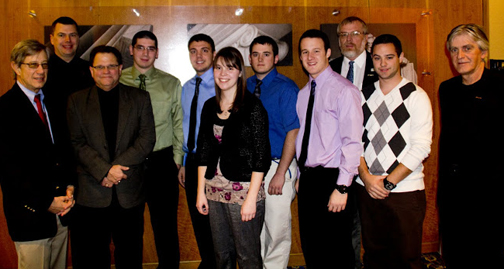 Caption – From left, ARC Federal Co-chair Earl F. Gohl; Alfred State architectural engineering professors William Dean (ATP Teaching Fellow) and Rex Simpson; students Matthew Sickles of Albany; Travis Monroe of Cattaraugus; Emily Connors of Spencerport; Thomas Button of Rushville; Anthony Vischansky of Elmira; Alfred State's Craig Clark, executive director of the Wellsville campus and dean of the School of Applied Technology (ATP Teaching Fellow); James Marsh of Belmont; and architectural engineering assistant professor Jeffrey Johnston.