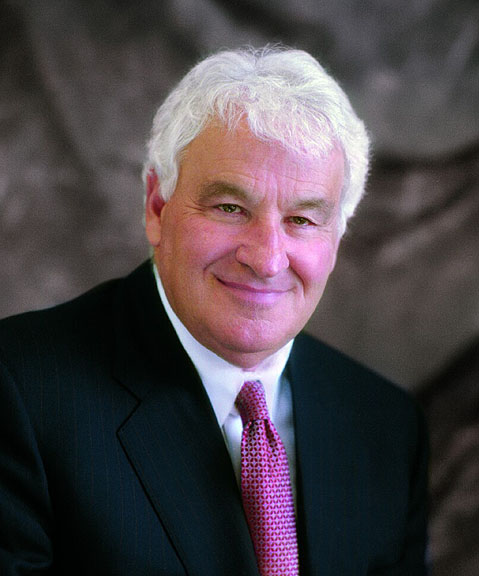 B.
Thomas Golisano, founder and chair of the board of directors of Paychex, Inc.,
Rochester, the second-largest payroll processor in the United States,
and 1962 general business management graduate of Alfred State College, will
receive an honorary doctorate of humane letters, at his alma mater's
commencement ceremony, Sunday, May 17, 2009.
Golisano, a self-made billionaire, is
widely known for his business acumen, his philanthropy, and his interest in government,
particularly that of New York State.
Golisano founded Paychex in 1971 with $3,000 and an idea about how to make
payroll outsourcing easy and affordable for small businesses; he is
chairman of the Board of the Company. Until October 2004, he served as
president and chief executive officer.  Paychex began with one employee and 40 clients. Today,
Paychex serves more than 500,000 clients from over 100 locations across the
United States and employs more than 12,000 people.
Paychex and Golisano have received
numerous national honors over the years. In 2009, the company was recognized
for a sixth year by FORTUNE magazine as one of the "100 Best Companies to
Work For" in America.   Paychex has also been recognized by Training
magazine as one of the top 100 training organizations in the country, FORTUNE
has named Paychex one of the most admired companies in the country, and Forbes
honored Paychex as one of the best-managed companies in America.
The Irondequoit native is a member of the board of directors of several
private companies, and he serves on the board of trustees of the Rochester
Institute of Technology. He owns the Buffalo Sabres hockey team and the Buffalo
Bandits lacrosse team. Golisano has served as a member of the board of
directors of numerous non-profit organizations, and founded the B. Thomas
Golisano Foundation in 1986 to provide grants to organizations serving persons
with disabilities.
Golisano has also made major donations to leading health care and educational
centers. He donated $14 million in 2001 to
the Rochester Institute of Technology
to fund the B. Thomas Golisano
College of Computing and Information Sciences. Golisano donated $14
million in 2002 to the Strong Memorial Hospital, which re-named its pediatric
facility the Golisano Children's Hospital in his honor. In 2006, Golisano
donated $6 million to Bishop Kearney High School and Our Lady of
Mercy High School. In 2007, with a $10 million donation, Golisano launched the
Golisano Institute for Sustainability at the Rochester Institute of Technology.
Most recently, Golisano donated $10 million to Niagara University for a new Center for
Integrated Science building that will be named in his honor.  Other significant recipients of his
gifts include Crozier Colgate Divinity, WXXI Public Radio, Heritage
Christian Services, F.F. Thompson Health, Rochester General Hospital, Upstate
Medical Foundation, Springbrook, Mercy Flight Central, Hartwick College,
Veterans Outreach Center, Inc., Nazareth College, and Roberts Wesleyan
College.  Golisano has also been a major underwriter of former President
William Clinton's Global Initiative.
The Alfred State
College alumnus has served on that college's Development
Fund Board as an honorary member and was a
sponsor of the ASC Entrepreneurship Program, established in 1998.
Golisano is a founder of the
Independence Party of New York State and has run for governor of New York as
that party's candidate three times. In 2008, Golisano formed a PAC called
Responsible New York, to support candidates for the New York state legislature.
The goal of Responsible New York is to guide true political reform in the state
and to return government to the people.
Golisano has
received numerous awards and recognition for his business prowess and
philanthropy, including:
2008 "Niagara Frontier Executive of
the Year" presented by the University at Buffalo School of Management
Alumni Association
David T. Kearns Medal of
Distinction - recognizing significant achievements in business,
public service, and education, by
the University of Rochester's William E. Simon Graduate
School of Business Administration
Outstanding Philanthropist by the
Association of Fundraising Professionals, an international organization, 2004
Rochester
Business Hall of Fame, 2001
The Herbert W.
VandenBrul Entrepreneurial Award, presented by Rochester Institute of
Technology's College of Business, 1987
"Master
Entrepreneur" award in Ernst & Young's Entrepreneur of the Year awards
competition for Western New York
The
"Distinguished Citizen of the Year" award from the Otetiana Council of the Boy Scouts of
America
Shumway
Distinguished Service Award from Family Service of Rochester
Humanitarian of
the Year Award, presented by the Boy's Town of Italy
Commerce and
Industry Award of the Rochester Chamber of Commerce
Outstanding
Alumni Award from the American Association of Community Colleges
Annual
Rochester Rotary Award, 2006
Catholic Family Center's (CFC) Award,
2005
Temple Adath Yeshurun Citizen of the
Year Award, 2005
Canisius College Board of Regents
Distinguished Citizen Achievement Award, 2005
Junior Achievement of Western New
York Inc's Business Leadership Hall of Fame, 2004
SUNY Alumni Honor Roll, 1997
Honorary
Doctor of Laws Degree from St. John Fisher College, Rochester
Honorary
Doctor of Laws Degree from Roberts
Wesleyan College, Rochester
Honorary Doctor of Letters, Hartwick
College, Oneonta
Alfred State College is
proud to count Tom Golisano among its alumni, serving as he does as an example
of high achievement in his diverse philanthropic and professional activities.