Alfred State College sophomore safety Sir Aaron Taylor (Westchester/Lincoln Hall) and freshman punter Colter Johnson (Warren, PA) have been named to the NJCAA All-American team. This is the third time in Coach Mick Caba's tenure that two players have been named All-American in the same year.
Caba is excited to have his program honored. "It's is definitely an honor to have two players named All American. It is a credit to our coaches and the young men in our program".
Taylor was a second team selection following a solid all-around season in which he contributed defensively, offensively, and on special teams. Taylor led the Pioneers with 63 tackles from his free safety position. 36 of his tackles were solo, four were for a loss, and he picked off five passes (returned one for a touchdown). He also returned 19 kicks (punts and kickoffs) for 379 yards and two scores. Offensively he rushed for 140 yards and two scores on 33 carries.
Prior to being named All-American, Taylor was named 1st team All-Northeast Football Conference. He also was named NFC and NJCAA special teams player of the week after a solid performance in the Pioneers opening game victory over Apprentice School. Versus Apprentice, Taylor returned the opening kickoff of the second half 86-yards to break a 7-7 tie en route to the Pioneers opening day victory. In total, Taylor had 97 returns yards on the day. Defensively, Taylor was also a factor finishing with five solo tackles, an interception, and three pass break-ups.
This follows a freshman campaign where Taylor recorded 52 tackles (32 solo), one sack, and picked off three passes (one returned for a score). He also rushed for 250 yards and three scores and passed for 423 yards and four scores.
"I'm very pleased to see Sir named All American. He is a complete football player who can play defense, offense, and special teams. Several Division I programs have offered him a scholarship and it seems each school expects him to play a different position. It has been a pleasure to coach Sir and to watch him develop as a player, a student and a person in his two seasons at Alfred State".
Taylor is currently in the middle of the recruiting process. He has been contacted by two dozen schools and has received offers from the University of Akron and Youngstown State.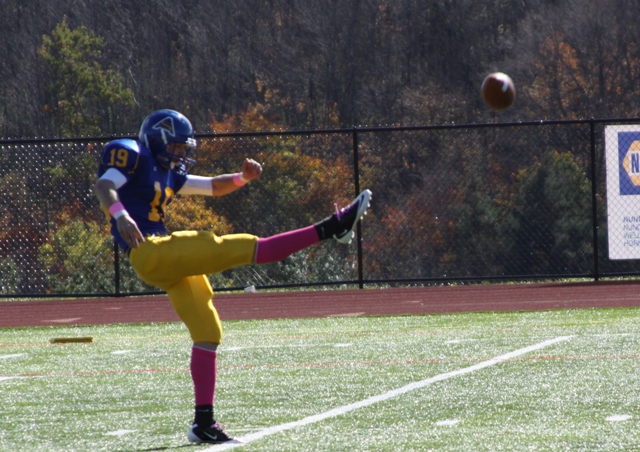 Johnson was an honorable mention selection after a solid first year wearing the blue & gold. He punted 51 times for 1,970 yards (38.6 yard average). His long on the season was 77 yards and he placed 10 punts inside the opponent's 20 yard line. On the season he had just one punt blocked.
Nationally, Johnson is ranked 8th with a 38.6 yard average and 8th with his total of 1,971 total punt yards. His 77 yard punt in his first collegiate game vs. Apprentice School was the 3rd longest punt in the NJCAA this season and led to the Pioneers sealing the victory with a safety.
Prior to being named All-American, Johnson was a 1st team All-Northeast Football Conference selection. After the Pioneers contest vs. Nassau CC, Johnson was named both the NFC and NJCAA special teams player of the week. In that contest he punted three times for 137 yards and an average of 45.7 yards. He had a long of 52 yards.
"Johnson had a great year as our punter. Football is a game of field position and Colter, without a doubt, gave us the edge in every game with field position. As his coach, it's exciting to know we have him back next season, and coincidentally, he may be a better kicker than punter. Colter is a young man of great character and it is an honor to have him in our program. I expect great things from Colter next season."
Johnson will return next year as one of the top punters in the NJCAA.
Caba has now coached nine All-Americans in his eleven years at the helm of the Pioneer football program.
Overall, the Northeast Football Conference had eight players named All-American.