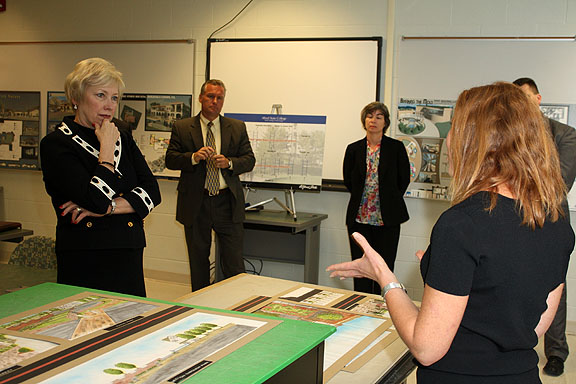 State University of New York (SUNY) Chancellor Dr. Nancy L. Zimpher continued her whirlwind summer tour of SUNY's 64 campuses with a 55th stop at Alfred State College in Allegany County on Tuesday.
During her visit to the college, Zimpher met with college administrators, faculty, staff, students, alumni, and local business and government representatives, absorbing their views on how SUNY can help Alfred State do what it does so well—educating students—even better.
"I'd like SUNY to be a building block—a scaffold—for its campuses," noted Zimpher, to allow them to make even greater contributions to the future of New York State.
Thus, dual reasons for the tour—to become acquainted with the system she leads and to enable her and a group of select SUNY personnel to define emerging themes to help create a strategic plan to lead SUNY for the next five-10 years.
Additionally, the chancellor noted the need for more partnerships with public and private entities, allowing for mutually beneficial relationships—economic recovery for the state and increased opportunities for students throughout the SUNY system.
"We have to promote the SUNY brand," noted Zimpher, which will lead to additional investment by private and governmental sources.
When asked what struck her most about her visit to Alfred State College, Zimpher was quick to point out that for a small college, ASC has big dreams, including its investigation into building a wind farm to generate the equivalent of the energy used on both its campuses; the depth of its educational programs; and its commitment to the environment through its sustainable energy programs.
"There are big ideas all across SUNY," Zimpher said. "But the energy and focus of Alfred State College [to turn those ideas into reality] is very impressive."
Before accepting her current position on June 1, Zimpher was president of the University of Cincinnati.
View additional photos of the Chancellor's visit.