Continuing the theme of "Imagine," Alfred State College President Dr. John M. Anderson recently welcomed faculty and staff at the opening convocation for the spring academic semester. Using "imagine" as the springboard for his vision for the future of the College, Anderson reported on the progress that has been made since the autumn convocation. Included among his big dream for our small college, Anderson noted that a re-concerted effort will be made to increase the number of grants garnered by faculty and staff. One of the strategies to bring that goal to fruition is being spearheaded by Vice President for Academic Affairs Dr. Stephen Havlovic. A baccalaureate Teacher/Scholar program is being established whereby faculty teaching baccalaureate courses who have an active research program (per established criteria) may request a 12 equivalent credit hour teaching load for semesters when they are teaching at least one baccalaureate course.
Other actions launched to achieve Anderson's vision of hosting national and international symposia on campus, particularly during the summer months, include planning teams to create timelines, policies, and faculty incentives; seeking partnerships and sponsors; and marketing the results. Additionally, Anderson sees an increasingly robust program of student participation in national competitions through reallocation of resources, fundraising, sponsorships, grants, as well as having ASC host competitions when feasible. Finally, among Anderson's dreams, expansion of our study abroad programs to include not only Alfred State's successful partnership with Sorrento Lingue International Language Institute in Sorrento, Italy, but pending articulation agreements with several institutions in China.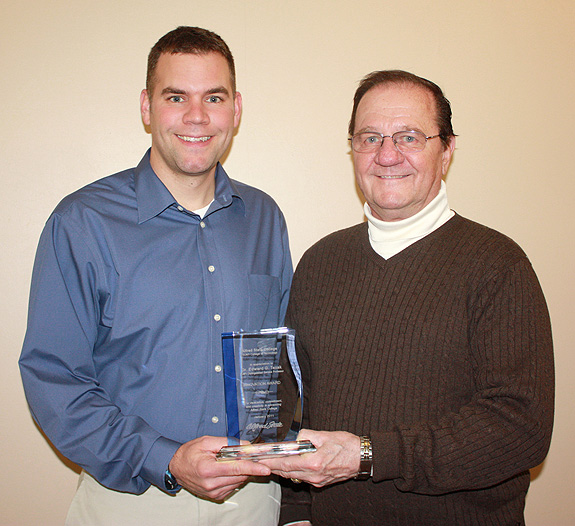 Other "business" conducted at the event included the introduction of new faculty and staff as well as the presentation of the President's "Innovation Award" to BUV (basic utility vehicle) competition, held annually in Indianapolis, and where ASC students have captured first place on two occasions, edging out such powerhouse universities as Purdue, University of Cincinnati, University of Missouri-Columbia, and Northern Illinois University. (A BUV is, according to the Institute for Affordable Transportation (IAT) which sponsors the competition, a vehicle to help meet peoples' everyday needs at the ends of the earth, promote trade, and reduce poverty at a grassroots level.)
Also recognized with an "Innovation Award" was car as a project for the class labs. The class researched the process of completely upgrading the car with state-of-the-art electric components, and estimated the price of a full upgrade. The class of 17 students was broken into five teams: (1) charger and batteries, (2) high-voltage system, (3) low-voltage system, (4) instrumentation, and (5) motor and motor mounting. They replaced everything on the car from the power outlet put in place of the gas filler neck to the motor directly coupled to the transmission input shaft. The newly retooled car can travel 50 miles per charge, dependent on terrain and driving habits; can reach a top speed of 81 mph; can achieve 0-60 mph in 28 seconds. The car can be charged in four hours to charge on 220Volts, and eight hours on 115Volts.