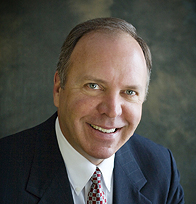 Alfred State President John M. Anderson was recently named a board member of the New York Campus Compact (NYCC), an association of over 79 institutions of higher education across New York State that all advocate for "active citizenship as an objective of higher education," according to the NYCC Web site.
Civic engagement and community partnership are key components of the mission of NYCC, along with promoting the knowledge and practice of democratic participation and responsibility. In the national network of Campus Compacts, over 1,100 institutions in 49 states share the philosophy that higher education has the responsibility to provide resources and promote civic and community engagement, thus creating informed, thoughtful citizens through education.
"I am pleased to be part of an organization that supports campuses' efforts in promoting civic engagement," remarked Anderson.
Chartered in 2001 and hosted by Cornell University since then, the NYCC strengthens the capacity of member institutions to partner with their communities; increases student involvement in academic and co-curricular public service; advances engaged scholarship; and cultivates the knowledge, values, and skills of civic responsibility and democratic participation. [http://www.nycampuscompact.org]