Alfred State College faculty and
staff welcomed this year's incoming freshmen during the 14th annual
New Student Convocation.
This year's keynote speaker was Dr. Edward Tezak, SUNY
distinguished service professor, ASC Mechanical Engineering Technology Department;
Dustin Fabian,'08, Frewsburg, ASC Student Senate president, who gave the
convocation address; and Wren Keber,'06, Fairport, first vice president, ASC
Alumni Association, who welcomed the Alfred State College freshmen to their
alma mater.
In his remarks, Tezak
advised students to "be flexible, adapt, manage change, and learn to learn."
Fabian gave the "newbies" an insider's look at the college years, and Keber
welcomed the future alumni and urged them to take advantage of the
opportunities the college offers.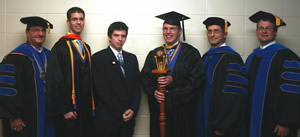 Pictured
here, members of the stage party prepare for the event: l-r: Tezak; Keber; Fabian; Grand Marshal Lawrence
E. Burns, SUNY distinguished teaching professor, ASC Mathematics and Physics
Department; Dr. Ronald R. Rosati, ASC provost and officer in charge; and Dr.
Steven J. Tyrell, ASC vice president for student affairs.