The Alfred State College athletic department handed out the Leadership, Sportsmanship, and Academic awards recently at the college's annual end of year banquet. Cody Dill (Unatego) and Angela Depew (Wellsville) were the recipients of the leadership award, Andy Jones (Milford) and Amber Harding (Fillmore) received the sportsmanship awards, and Alex Farrell (N. Tonawanda), Charise Nankivell (Hornell), and Andrea Presher (Prattsburgh) won the academic awards.
Dill was a two-year national qualifier for the Pioneer wrestling team. He finished his career with a 26-18 overall record. He earned All-Region and All-WNYAC honors this season. He was credited by his coaching staff as being a vocal leader that acted almost like another coach and for being counted on to do whatever the coaching staff asked him to do.
Depew played centerfield the past two seasons for the Lady Pioneers. She hit .360 this season with seven doubles, six triples, two homers, and 18 RBI on her way to being named 2nd team All-Region. This follows a freshman campaign where she hit .429 with six homers and 28 RBI. Her coaches credit her with having a strong personality that led her team on and off the field. She also organzied the team's blood drive and fundraising efforts.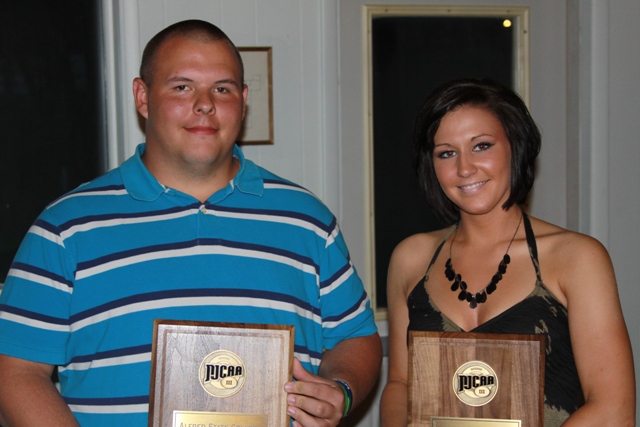 Jones was a thrower for the indoor and outdoor track & field teams the past two years. He earned 2nd team All-American honors in the hammer throw this spring with a 2nd place finish at nationals. He also was 2nd in the hammer in both the indoor and outdoor regional championships. His coaches remark that he is respected by his team and by his opponents, he has good composure in all situations, and that he is the ultimate team player.
Harding played almost every inning the past two years at third base for the Lady Pioneers. She hit .375 this season with 13 doubles, four triples, and 17 RBI. She hit .320 with 17 RBI as a freshman. Harding is credited with being a very competitive person that respects opponents and the effort they are giving. She also has never shown up teammates, opponents, or officials.
Farrell ran on both the cross country and track & field teams the past two years while accumulating a 3.84 GPA in architectural technology. On the cross country course he also ran to honorable mention NJCAA All-American honors.
Nankivell played her freshman season on the softball team, leading the team with .430 batting average and 10 wins on the mound and then played on the soccer team as a sophomore and scored one goal and passed out six assists. During her time at ASC, she has earned a 3.75 GPA in Court & Realtime Reporting.
Presher was a two year member of the volleyball team She recorded 170 digs, 37 service aces, 32 kills, and 22 blocks this past season while earning a 3.75 GPA in Agriculture Technology.