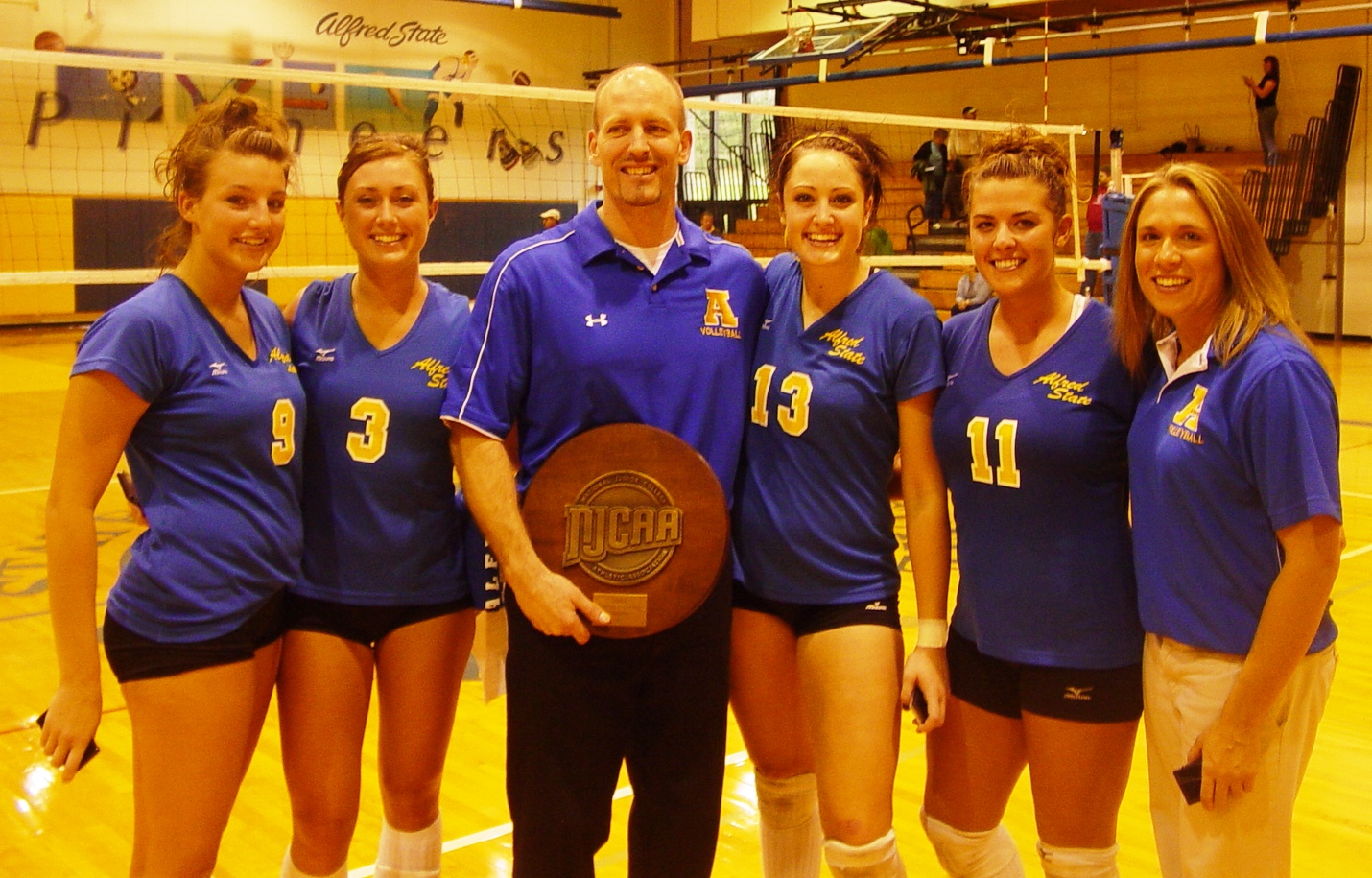 Alfred State College sophomore volleyball players Brianne McMahon (Buffalo/Sweet Home), Shannon Jablonski (Cheektowaga), Elaina Braun (Waterloo), and Natalie Gregory (Iroquois) had accumulated 65 wins in their two years at Alfred State heading into the championship round of the Region III Division III Tournament on Sunday.  The quartet along with their teammates added convincing wins over Corning CC (30-14, 30-17, & 30-22) in the semifinals and Jamestown CC (30-19, 30-9, & 30-21) in the finals to punch their ticket to the NJCAA Division III National Championships and improve the sophomores two-year record to 67-7 in the past two years.
The Regional Championship is the first for an Alfred State Volleyball team since 1977 and only the third time in school history (1976 - 17th place finish & 1977 - 11th place finish).
In the semifinals, McMahon led the way with 18 kills and 16 digs while Jablonski added a team high 26 digs, 12 kills, and six service aces.  Jenni Jerome (Syracuse/Westhill) added 16 digs and seven kills, Georgia Buchholz (Andover) hade 12 digs and six kills, and Braun passed out 40 assists and was credited with 13 digs.  Gregory chipped in 11 digs and two blocks.
Alfred kept rolling in the finals as they connected on 43 kills, 19 blocks, and served seven aces.  McMahon had 14 kills and 14 digs, Jablonski led the way with 27 digs and five kills, and Jerome chipped in 11 kills, 10 digs, and six blocks.  Braun passed out 33 assists, collected 17 digs and five kills.  Buchholz added eight digs, six kills, and four blocks and Gregory finished with eight kills and five blocks.
Head Coach Gene Doorley who has turned the Pioneer program around in his five years (105-53) at the helm of the program was impressed with his team's play.  "Obviously, we are ecstatic about winning the regionals and heading to the National championships to represent our region."
"I really think the key this weekend was our balanced attack, commitment to playing disciplined, and playing a high energy game.  I love the excitement that this team plays with.  I think it was obvious just how much these ladies wanted to win the regional tournament.  Going to the national championships has been our goal this entire season."
McMahon was named the tournament MVP while Braun, Jablonski, and Jerome were named to the All-Tournament team.  Other members of the All-Tournament included Kari Barmoe (Jamestown), Rebecca Zimmerman (Jamestown), Ashley Dann (Corning), Erica Zacek (Mohawk Valley), Cory Thornton (Corning), Tonya Snyder (Mohawk Valley), Brianna Holcomb (Cobleskill), Jennifer Hays (Monroe), and Hikaru Kozuma (Delhi). 
Jamestown downed Mohawk Valley CC in the semifinals 30-17, 30-21, 26-30, 30-12 to reach the finals.
The Lady Pioneers, ranked #5 in the last NJCAA Division III poll, improve to 35-4 on the season and are 34-2 in Region III Division III play.  ASC has won 27 of their last 29 matches with the only losses coming to Division II Genesee CC.  The Lady Pioneers have also won the last 23 games they have played in.
The official seeding for the NJCAA Division III Tournament will be announced on Thursday November 8.  The eight-team National Championship will take place at the University Center Rochester-Sports Center in Rochester, MN.  Pool play will take place on November 16 and the championship rounds will be played on the November 17.
"I am so proud of how hard this team has worked and how much they have improved this season.  I am so happy for them and I am looking forward to getting ready to represent the college and our region well at the National Championships."