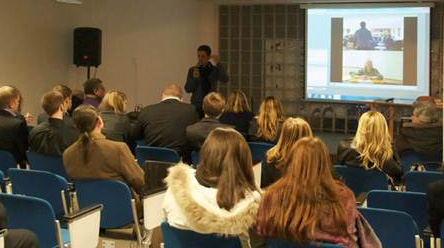 Students enrolled in Alfred State College's Sorrento study abroad program recently attended an Internet cineforum (teleconference) with Professor Elinor Ostrom, recipient of the 2009 Nobel Prize in Economics.
Ostrom, of the University of Indiana, is recognized "for her analysis of economic governance, especially the commons." The event was organized in collaboration with Sorrento Lingue, ASC's host Institute in Sorrento, Italy. ASC students were impressed by Sorrento Lingue English teacher, Marco Spiezia's, outstanding job in translating Professor Ostrom's responses for the Italian audience members.
At the end of the formal interview, ASC Associate Professor of Business, Professor Jeffrey Johnston and 18 Alfred State College students. She further explained that the students are studying abroad this semester in Sorrento, Italy, with our partner, Sorrento Lingue. Her question for Ostrom was, "What do you believe should be the role of undergraduate colleges in preparing our students for the sustainability challenges they will face?"
In her response, Ostrom stated she believes this is a very important topic and noted that she supports implementing sustainability education across the disciplines. She stated we should not wait until students attend college but begin this education at the high school level.
This experience gave ASC students an opportunity not only to engage in global dialogue, but also to speak with a Nobel Prize winner.