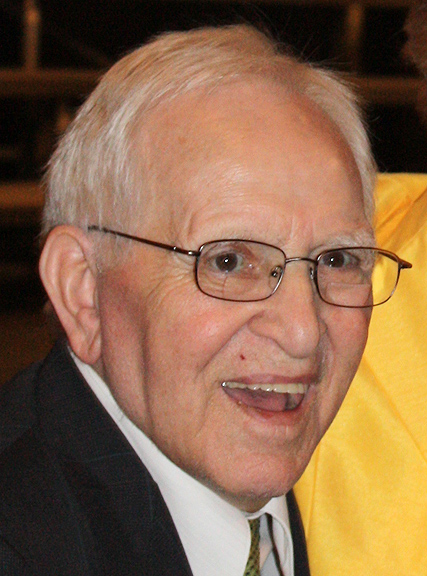 Alfred State College will name its auditorium for longtime employee Anthony Cappadonia following the successful completion of a campaign to raise funds for renovations of the facility, President Dr. John M. Anderson announced recently.
President Anderson made the announcement at the Alfred State College Alumni Choir Concert, an event which has been led by Cappadonia for 60 years.
"Over the next couple of years, the College will invest over a quarter of a million dollars to upgrade the auditorium. We approached the alumni choir leadership about whether the group would like to support the renovation of the space that they had performed in so many times, and they were very enthusiastic. We will spend the next year raising an additional $100,000 from supporters to further the scope of the renovations of this auditorium, and second, once we have achieved that $100,000 goal, to commemorate that successful campaign we will name this facility after the person who, more than any other, poured his heart and soul into the wonderful performances that have graced this hall over the years: Anthony Cappadonia," said Anderson.
Professor Emeritus Anthony Cappadonia served as music professor at Alfred State College from 1951 until his retirement in 2007, after 56 years of directing both instrumental and choral groups.
Cappadonia earned his bachelor and master degrees in instrumental and vocal music from Ithaca College and continued graduate work at Syracuse and Alfred universities. He has authored many articles in the Choral Journal, a national publication. He is also an accomplished composer, most recently honored by performance of his Alleluia, Prayer, and Amen at the National Cathedral in Washington, DC. Cappadonia is a member of the American Choral Directors' Association and has served as guest conductor and adjudicator for many county and area all-state choirs throughout New York and Pennsylvania. He was presented the ASC College Council Outstanding Service Award in May 2000.
The response to the project has been strong – over $30,000 has been pledged in just seven weeks. The renovation funds, both from the College's budget and from the money raised through the campaign, will be used to improve the auditorium's lighting, sound system, acoustics, appearance, and other mechanicals. The College hopes to dedicate the facility at next year's Alumni Choir Concert. Those interested in supporting the project may go to www.alfredstate.edu/give.