Alfred State celebrated its new Veterinary Technology Center Friday with an Open House attended by past and present students, President Skip Sullivan, Dean of the School of Arts and Sciences Dr. Robert Curry, faculty, staff, administrators, and community members.
Dr. Philip Schroeder, chair of the Agriculture and Veterinary Technology Department, said the Center is used to teach almost all of the vet tech classes that involve live animals. It includes animal housing, teaching labs, a radiography suite, and a surgical suite.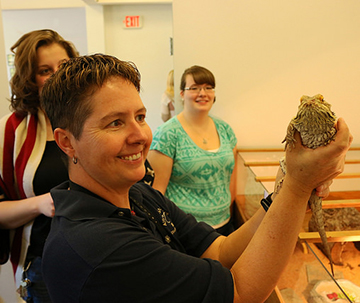 "The Vet Tech Center is a top-quality teaching facility that rivals any in the region," Schroeder said, "and helps the program continue to be one of the best in the country."
Before opening during the spring 2013 semester as the Vet Tech Center, the facility was used for the horticulture and landscape design program since the 1950s. Renovations to the roughly 7,500-square-foot building began in the spring of 2012 and ended this summer, costing $1.2 million.
The Center also maintains relationships with the Wellsville SPCA and the Hornell Area Humane Society.
"Both of these entities send us dogs and cats to use in teaching and in turn, we spay or neuter and socialize these animals," Schroeder said.
Kellie Donovan, of Bergen, N.Y., who graduated from Alfred State in 2006 with a degree in veterinary technology, attended Friday's Open House and took a tour of the new facility. She came away impressed.
"I think it's great," said Donovan, who is now a licensed veterinary technician at Genesee Valley Equine in Scottsville, N.Y. "It looks amazing."
Hannah Leffler, a veterinary technology major from Averill Park, N.Y., was also present at the Open House. She noted that the Vet Tech Center helped prepare her for a summer internship at Bloomingrove Veterinary Hospital in East Greenbush, N.Y.
"We have so many awesome machines here to work with that are just like the ones we work with at our internships and eventually our jobs, so the Center is really helpful," Leffler said.
In photo above: Kathy Bliss, Alfred State instructor in the Agriculture and Veterinary Technology Department, holds up "Jose," a bearded dragon, Friday during the Vet Tech Center Open House.