Alfred State students at the School of Applied Technology on the Wellsville campus recently had the opportunity to restore a 1978 Rolls Royce Silver Wraith II for JJ Sanchez, executive producer of the online series FIREBALL RUN (see photos). Sanchez is set to visit and address the students on May 17, 2013.
The opportunity to work on the prized Rolls Royce presented itself during a conversation between Sanchez and Craig Clark, dean of the School of Applied Technology, when the FIREBALL RUN rolled onto the Wellsville campus in September 2012 as part of the show's "Northern Exposure" series segment. The connection between the production and the college is the result of the promptings of Gretchen Hanchett, executive director of The Greater Allegany Chamber of Commerce.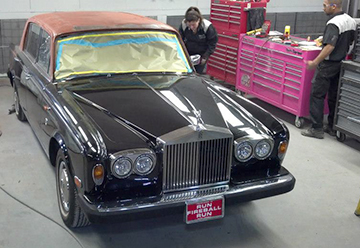 From matching the quality of a Rolls Royce factory paint and body finishing, to returning the vehicle to 'long distance' mechanical reliability through renovations, Professors www.fireballrun.com.