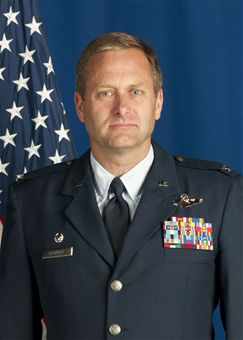 Alfred State has announced Colonel Timothy J. LaBarge, commander of the 105th Airlift Wing at Stewart Air National Guard base in Newburgh, NY, as this year's speaker for the Sunday, May 19, 2013, Commencement exercises. This ceremony – the college's 102nd Commencement – will be dedicated to veterans and those currently serving in the United States Armed Forces and will also feature a special tribute through a flyover of "W7," a C-47 that was one of the lead aircraft in the first strike at D-Day in Normandy, France, during WWII.
Colonel LaBarge previously served as the commander of the 109th Airlift Wing, the only ski-equipped C-130 aircraft in the Air Force inventory and sole provider of heavy airlift in support of military and National Science Foundation directed operations in the Arctic and Antarctic Polar regions. He also served in the Directorate of Total Force Integration, Air Force Strategic Planning, at the U.S. Air Force Headquarters in Washington, DC; is a subject matter expert in the Mission Development Division; and served as Director of Staff – Air Component at the New York Air National Guard headquarters, where he was principal adviser to the Adjutant General and/or Assistant Adjutant concerning the U.S. Air Force and National Guard.
Commissioned to the Air Force in 1983, Colonel LaBarge has since served in positions and roles of: T-37 instructor pilot; wing flight examiner/spin pilot; C-5 Aircraft Commander; flight instructor/examiner pilot; squadron operations officer; chief, Standard and Evaluation; and chief, Wing Command Post. He has a rating of Command Pilot; has flown combat and support missions in Operations Desert Shield/Desert Storm, Operation Enduring Freedom, Operation Iraqi Freedom, and Antarctic Operation Deep Freeze Seasons airlift missions; and has logged in more than 5,500 flights hours in seven different United States Air Force aircraft.
Colonel LaBarge received his bachelor of science degree in biology from St. Lawrence University in 1983. He completed Squadron Officer School in 1987, then Air Command and Staff College in 2001, Air War College in 2003, and Advanced Joint Professional Military Education in 2013.