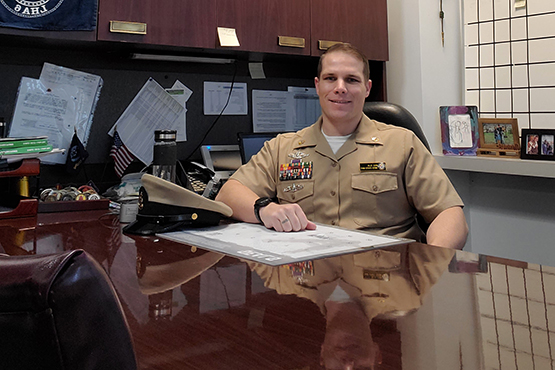 Healthcare Management
Max pursued a degree that would add to his experiences in the Navy.
Max Elia saw the world serving in the United States Navy and developed a passion to work in the healthcare field. When his career in the Navy led him back to his hometown, Buffalo, NY, he started searching for a school to complete a bachelor's degree online.
Working as the Navy's Medical Programs Coordinator and Officer Recruiter in the Western New York area, Max found the right fit with the Healthcare Management degree program at Alfred State.
"I had worked in healthcare for years as a Hospital Corpsman and I was looking for a degree that would allow me to build off of my background in healthcare administration and management."
"Transferring credits was a fairly simple process for me…as soon as my transcripts were received and assessed I received a degree evaluation from the student record department."
With the help of his advisor Maureen Kinney, Max was able to design his degree plan.
"She continuously followed up with me to ensure I was doing well. Going into the process, I was a little intimidated. Thankfully, Maureen stepped in and helped get everything I needed set up."
Max worked his full-time job and took care of his family while pursuing his degree.
"The 24/7 accessibility of online learning was extremely convenient to me. I was pleased with the whole experience. I thought the professors were very knowledgeable and the classes were thoughtful and engaging. I was challenged by the assignments and learned a lot of helpful information in the classes."
"I met a lot of really great students progressing through their degree programs just like I was. I enjoyed talking and discussing information with people who were at similar points in life like I was."
Max has already started to apply his new knowledge in his current position and is looking forward to pursuing a master's degree someday in Healthcare Administration and Public Health.
Thankful for the support of his family, Max plans on treating his wife and two sons to a weekend out and some fancy dinners.
Max encourages others to follow this advice if they are looking to complete their degree online. "You know where you are and you know where you want to be, keep your focus on your goals and not the challenges you are going to face. Nobody else is going to get it for you."