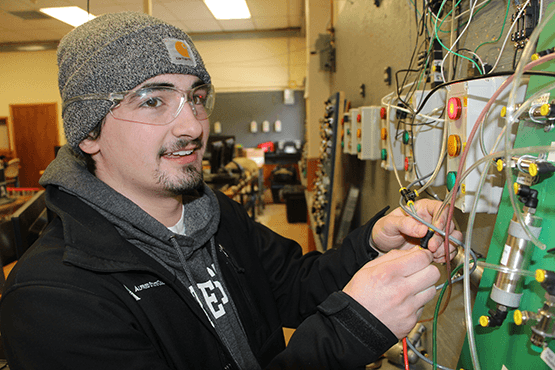 Electrical construction and maintenance electrician
Eric enjoys the small class sizes in his program.
When looking into different postsecondary schools, Eric Passeck knew he wanted to learn a trade and also get the so-called "full college experience."
His search led him to discover Alfred State, which ended up being the perfect fit. Here, Eric is getting a quality education, while also experiencing campus life and independence from home.
For Eric, the best part about his program is the abundance of hands-on learning he gets each day.
"I learn better when something is in front of me and I'm working on it with my hands and I can see physically how it works rather than just sitting in a lecture."
Eric also enjoys the small class sizes in his program.
"You can get more one-on-one interaction with the teachers here than you would at a larger school."
While some students from outside of New York State may be concerned about the cost, Eric advises them not to worry, noting that he himself received an out-of-state scholarship. Eric definitely recommends Alfred State to other non-New York students.
"Coming from out-of-state is a little more expensive, but for the education you're receiving and the knowledge it's going to give you for the future, it's totally worth it."