2023 Intelligent.com
Program Advantages
The Bachelor of Technology in construction supervision is an upper-division program, that will add valuable construction business skills to a technical background. Students with carpentry, heavy equipment, electrical, mechanical, and architecture skills to name a few, will be able to see how their skills are utilized to build the environment in which they live. The BTech in construction supervision will give graduates a working knowledge of construction estimating, scheduling, and contract law. These skills along with their technical competency will make graduates a prized asset to companies that are involved in the construction industry. The program includes a full semester internship.
The program is set up as a completion degree, meaning students entering must have an associate degree or 60 credits in a related curriculum. Unrelated college credits can be accepted with construction work experience.  Union journey persons can get 60 technical credits for their apprenticeship completion from an approved construction trade union.  A true 2+2 can be achieved with 21 credits of liberal arts and sciences, including five silos of SUNY general education completed before entering the program.
Professional Outlook
Assistant superintendent
Superintendent
Construction-related sales
607-587-4612
Pioneer Quotes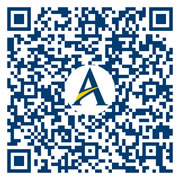 "Most realistic and helpful schooling I've had. This really sets you up for success in construction." - Andrew Schimek, BTech Construction Supervision '22
"I applaud the effort to start a Construction Supervision Degree Program because of the shortage of good, qualified supervisors for the trades in Western New York." - Mark Brammer, President SDC Construction Inc.
"This sounds like a great option for your tradesman and future potential business owners." - Kevin Whitman, Project Manager DGA Builders
"The company my internship is with is Schuler-Haas Electric Corporation. They are a large union electrical contractor in upstate NY with offices in Rochester, Corning, Ithaca, and Binghamton. I selected this company due to its location to Alfred (Corning office) as well as its size, and because it is a member of the IBEW and NECA. I reached out to the branch manager who allowed me to come in for a one-day job shadow during the summer. Following this I asked if they would be willing to hire me as an intern and they gladly took me in.
A typical day as an intern begins with either showing up to the office to assist/ observe common duties of an employee (estimator, project manager, branch manager) or showing up to a jobsite to assist in construction while shadowing the common duties of a foreman. Tasks change daily and I am constantly being taught new things regarding the electrical trade, management techniques, and company culture.
So far, some highlights of my internship have been being able to learn new Accubid software to complete a bid, and attend a bid opening event; traveling to a Solar field to see how large scale, in field, operations are conducted; and lastly being able to assist in the placement, grounding, and wiring of high-voltage transformers with associated equipment." - Tim Wright, Alfred State College Student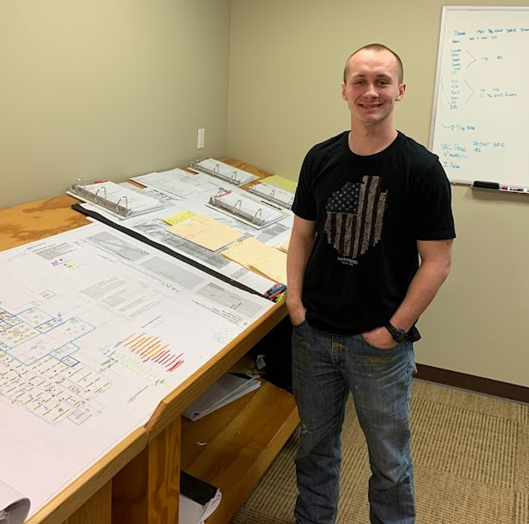 From the football field to the construction field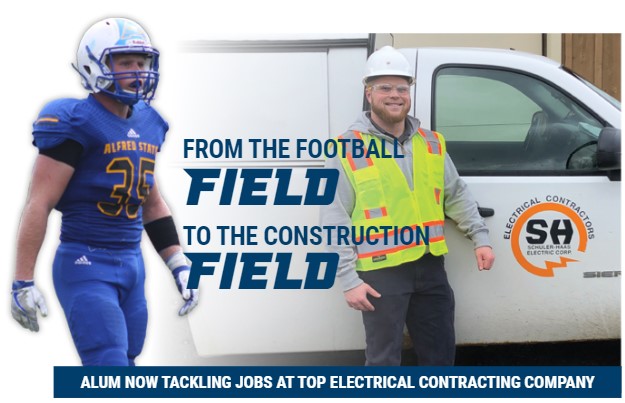 Alfred State will always be a special place for Brandon Davis. It was here that Brandon played on the football team with his twin brother, made lifelong friendships, and received an excellent education that helped him secure a job even before he graduated.
Today, Brandon is an assistant project manager at Schuler-Haas Electric Corp., one of the top electrical contracting companies in New York State, with locations in Rochester, Ithaca, Binghamton, and Corning. Each day while he oversees construction sites, Brandon applies the skills and knowledge he gained as a Pioneer to his job, and is thankful for the ways that Alfred State helped him to be successful.
A Lansing native, Brandon enrolled at Alfred State College in 2015 in the electrical construction and maintenance electrician program. In addition to having the major he liked, Brandon also decided to attend Alfred State because it gave him the opportunity to play college football.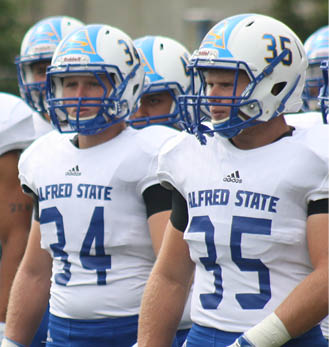 One of the best parts of Brandon's college football career is the fact that he was able to suit up every week next to his twin brother, Owen. Both linebackers, Brandon wore jersey number 35, while Owen wore number 34.
"I went to Alfred State with my twin brother and it was a blast," Brandon said. "We both played on the football team and were on the All-Academic Team. Also, we were a part of the Student Athlete Advisory Committee, which was a great experience."
To be named to the Eastern Collegiate Football Conference (ECFC) All-Academic Team, a student-athlete must have earned a cumulative GPA of 3.3 or higher while being a sophomore in standing with two years of participation on the football team.
In addition to receiving this honor, Brandon and Owen were both also named to the National Football Foundation (NFF) Hampshire Honor Society. To be eligible at the time, student-athletes must have completed their final year of playing eligibility in 2018, achieved a 3.2 cumulative GPA throughout their entire course of undergraduate study, met all NCAA- or NAIA-mandated progress toward degree requirements, and been starters or significant contributors throughout the 2018 season.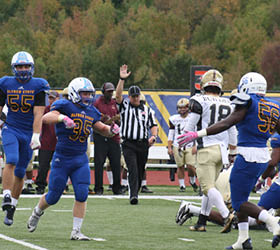 Brandon played on the football team for all four years he was at Alfred State and was even named a captain. While they are no longer making tackles at Pioneer Stadium, Brandon and Owen continue to be involved in the game of football by coaching their local high school team.
"We did very well this year by leading the team to an 8-1 season," Brandon said.
Academically, Brandon graduated from the two-year electrical program in May 2017. Looking to further his education, he enrolled in the college's then-brand-new Bachelor of Technology construction supervision program, which launched a few months later in August.
As a construction supervision student, Brandon was able to add valuable construction business skills to his electrical trades background and gain a working knowledge of construction estimating, scheduling, and contract law.
In an article appearing in the 2019 edition of a publication called, "Building the Southern Tier," Brandon spoke about this exciting new major and his decision to enroll in it, saying, "What attracted me to the program was that it was a new program which allowed a lot of one-on-one time with my teachers. I also appreciated that it gave me an opportunity to apply my specific background trade to my schooling. The program has allowed me to put together a great resume that stands out from the crowd and employers seem to love."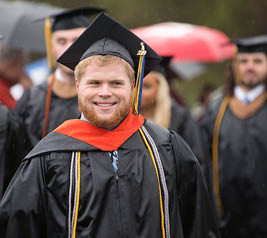 In 2019, Brandon became part of the construction supervision program's inaugural class of graduates. Prior to graduating, Brandon already had a job lined up with Schuler-Haas, where he has worked ever since May of 2019.
Schuler-Haas throughout the years, according to its website, has continued to serve the commercial, industrial, institution, and utility construction markets. As a leader in electrical contracting since 1961, the company has integrated the latest technologies to help their clients take advantage of the newest in telecommunications, fiber optics, solar arrays, and design/build services.
In his job as assistant project manager, Brandon, who is based at the Ithaca location, oversees projects at construction sites from start to finish, focusing on the buyout, submittal process, change orders, requests for information, and closeouts.
Speaking to what he enjoys most about his job, Brandon notes, "I enjoy how I can learn something new every day and that I am able to work around educated individuals."
Since entering the workforce, Brandon has noticed that being an Alfred State grad helps form instant connections with other Pioneer alumni that he meets, no matter the age.
"The school has such a good reputation and produces similar types of caring individuals," he said. Looking back, Brandon is grateful for how Alfred State impacted his life. Some of his favorite memories include playing on the football team, connecting with a diverse group of people who ended up becoming lifelong friends, and launching a career at Schuler-Haas.
"I am proud to have gone to Alfred State to get an education and play college football," he said. "Alfred State will always be a home away from home and I will always be a Pioneer."