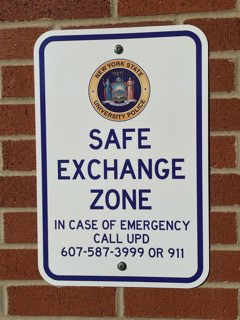 Did you buy or sell an item in an online marketplace and need to exchange, pickup, or show an item, but want to do so as safely as possible?
University Police has established a "Safe Exchange Zone" located at the University Police Department. This designated outdoor area under covered patio is monitored 24-hours a day, seven days a week by University Police.
This area can be used for legal exchanges or returns of purchased or borrowed items. The area also assists with wayfinding by centralizing an easy-to-find location and can give you piece of mind by avoiding hosted interactions in a residence hall. You may also have a member of UPD stand by during the exchange if you would like an additional physical presence.
Our goal is to partner with our community to maintain high levels of safety on campus. We hope you will join us by using this resource.