Scenic and convenient.


At the center of the US Northeast.
Centrally located for an amazing 104 million people, our region along the NY/PA border is called The Twin Tiers, including the Southern Tier of New York and Northern Tier of Pennsylvania. Alfred is close to so many people, but with all the charm and beauty of a picture-perfect college town. Alfred even earned honors as the No. 1 Ultimate College Town. Traveling from Boston to Chicago or between the two North American capitals of Washington and Ottawa, Alfred is right in the middle.
Alfred, NY is in the Western New York Wilds surrounded by rolling hills, the Finger Lakes, Watkins Glen, and the "Grand Canyon of the East" Letchworth State Park. Come see your new college home where you'll be living and learning, while gaining skills to launch your career. Visit us to see for yourself.
With convenient I-86 freeway access, Alfred is an attractive college town for students throughout New York and from many states where all US students qualify for special scholarships. There are 104,464,746 people within 350 miles of Alfred. That amounts to approximately one-third of the US population.
*NASA Socioeconomic Data and Applications Center (SEDAC) information as calculated from the ASC Student Leadership Center at longitude -77.79295 and latitude 42.25625. Other sources include 2020 US Census and Smappen Driving Distance Estimates.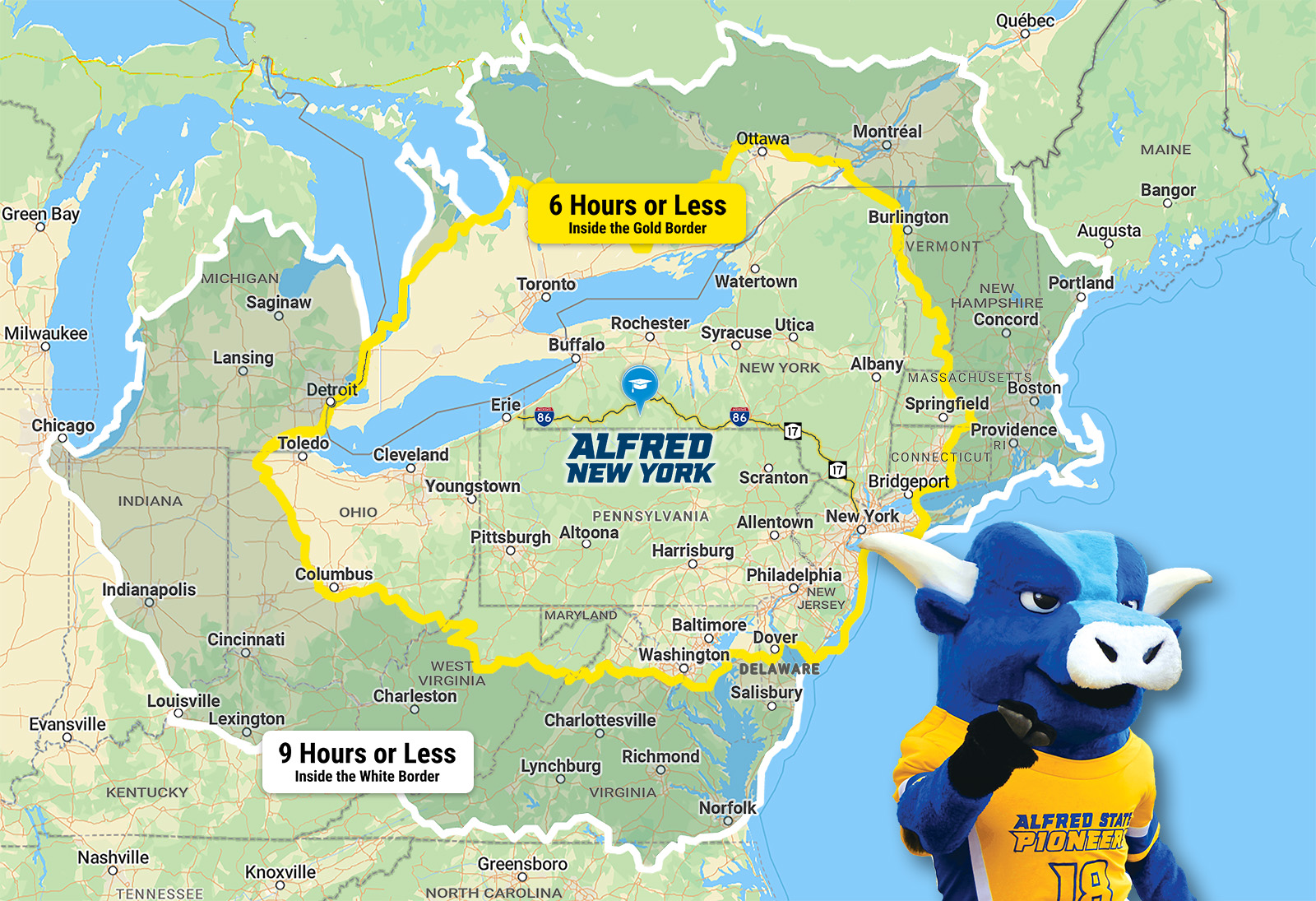 SMALL AND CARING COMMUNITY
Alfred State is your new home
Enjoy a 16:1 student-to-faculty ratio for extra support from our close-knit college community.
Discover our scenic beauty, small-town charm, and explore the Western New York Wilds.
Keep your costs small enough to fit the budget at a college with best-in-class rankings.
BIG OPPORTUNITIES
80+ majors, 90 clubs, 200+ labs
Experience Pioneer Pride. Enjoy friends, fun, and fitness as you cheer for Alfred State.
See our Pioneer Purpose in action as you build hands-on skills and launch a great career.
Win with a 98% employment and continuing education rate. That's our Pioneer Promise.
#1 IN SO MANY WAYS
Alfred State is your top choice
Honored by US News and World Report as the #1 SUNY Regional College year after year.
Named the Ultimate US College Town through a Washington Post analysis placing us #1.
Ranked by Affordable Colleges #1 in New York for low-income and first-generation families.
Alfred is Closer to More People
| East & Midwest Cities | US Census Population | 350-Mile Population |
| --- | --- | --- |
| Alfred, NY | 4,026 | 104,464,746 |
| New York, NY | 8,804,190 | 85,773,199 |
| Philadelphia, PA | 1,608,139 | 92,733,349 |
| Columbus, OH | 905,748 | 85,573,675 |
| Washington, DC | 689,545 | 94,971,843 |
| Boston, MA | 675,647 | 60,710,791 |
| Detroit, MI | 639,111 | 65,922,486 |
| Baltimore, MD | 585,708 | 96,241,413 |
| Cleveland, OH | 372,624 | 83,960,290 |
| Jersey City, NJ | 292,449 | 88,509,242 |
| Buffalo, NY | 278,349 | 97,618,266 |
| Toledo, OH | 270,871 | 68,745,666 |
| Richmond, VA | 226,610 | 82,587,335 |