ASC ranked No. 3 in NY, colleges with electrical, electronic, and communications engineering
2021 Money Mag. Best Colleges for Your Money
Program Advantages
Electrical/electronic engineering technology is the largest branch of engineering technology and includes a diverse range of sub-disciplines, such as applied design, electronics, embedded systems, control systems, instrumentation, telecommunications, and power systems. From the first semester of your first year, the two- and four-year electrical engineering technology programs will engage students in hands-on learning opportunities both in and out of the classroom.
Professional Outlook
2015 Median Salary: $61,130 Electrical Engineering Technician (AAS)
2015 Median Salary: $95,230 Electrical Engineer (BS)
Bureau of Labor Statistics
Related Links
ABET, the accreditation body for engineering technology programs: abet.org
607-587-4690
Pioneer Quotes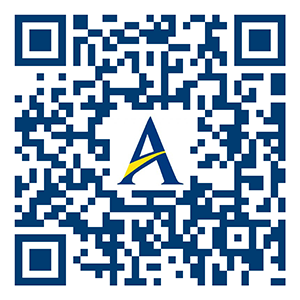 "Students not only learn electrical circuit concepts, they enjoy hands-on training through our robust lab experiences." -Dr. Matt Lawrence, Mechanical and Electrical Engineering Technology
"The electrical engineering technology program helped to reinforce and expand upon skills that I had learned as a technician in the military. The hands-on aspect means that you get to spend as much time in a lab as in a classroom. It's not enough to know how a system is supposed to work; you have to be able to fix it when it doesn't." -Matthew Porterfield, '16
Alfred State Rankings and Awards
Trentin Barber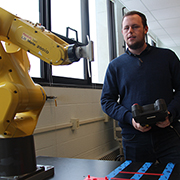 "I've learned a lot of things I didn't know before. This program has expanded my knowledge of the field and what to expect once you get into the workforce."
As an Alfred State student, Trentin has been able to put his education to use in some amazing ways, including programming, installing, and designing a robot arm as part of his senior project. He also secured an internship with Corning Inc., where he gained real-world experience and landed a job even before he graduated.
"They offered me a full-time position as a robotic automation controls engineer."