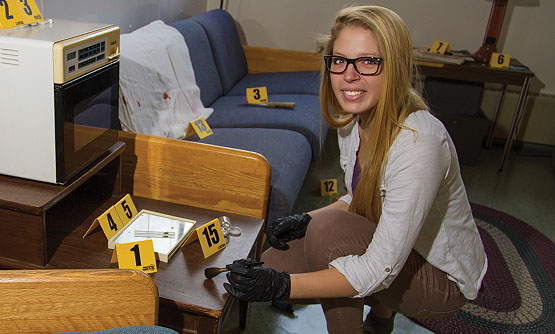 Forensic Science Technology, '16


This forensic science major has big dreams—and she's making them come true at Alfred State.




Christy Dodd is a force to be reckoned with. She's been entertainment chair for the Alfred Programing Board, communications chair for Civic Engagement Advocates, a student ambassador, a gold level in the Emerging Pioneer Leadership Program, a member of the honors program, and she's on the swim team. As if that isn't enough to fill four years, this Windsor native is also majoring in forensic science technology—one of the few science fields currently seeing an influx of women—and despite all she has on her plate, she plans to graduate with her bachelor's degree in 2016. We sat down with her to find out just what drew her to a STEM field like forensics and how she plans to use her experiences at Alfred State to get her where she wants to go.

Q: So, why major in a science?

A: Ever since I was in high school, I always was interested in science. I like how science offers you real answers, but at the same time you have to participate and use your mind to uncover them. And I like that there is never just one answer—there could be 15. It's up to you to use your intellectual skills to come to the best conclusion.

Q: Would you say you have a passion for science?

A: I have a really broad idea of my passions, but, for the most part, I want to have a life I'm proud of. I want to be successful in everything I do. So, I equate my passion with achieving my aspirations.

Q: What drew you to forensics?

A: In high school I was involved in this program that allowed me to participate in a rotation with a forensic pathologist. Seeing someone piece together all that information from the tiniest clues and from inspecting the cadaver—and seeing them have a role in bringing a criminal to justice and give a family closure really—it sold me. But I'm not going into it just for the science; I like that I'll be performing a service that helps society flourish.

Q: What are you doing at Alfred State to make your dream a reality?

A: Everything I've done here has been to better myself. I've really grown as a person. And I've learned how important it is to go away to college and get that experience. You can't learn who you are if you don't get away from home.

Q: You're involved in a lot on campus. What inspired you to become so active?

A: In high school I wasn't really outgoing or involved, but here I am. I had to take the bull by the horns and just do it. Now, people know me. They come to me and ask for help. They view me as a leader. It's astounding.

Q: What do you want to do after you graduate?

A: I want to go on to medical school for forensic pathology or forensic psychiatry. In the future I would love to work at the FBI as medical examiner or criminal profiler.

Q: What advice do you have for incoming students?

A: Be open. A lot of people come in with an idea of what college is going to be like, but more often than not it's the complete opposite. Just jump in. Classes are a big part of the academic experience, but when you're in a club or getting involved on campus, you find the people who are just as passionate about things as you are.