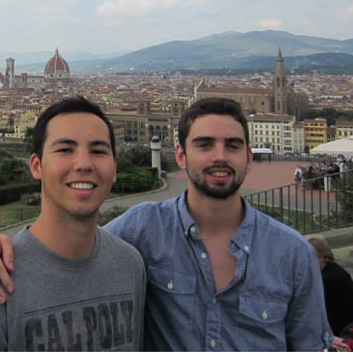 Students must prepare before launching their study abroad experience, and to help we have compiled a short list of frequently asked questions. Remember, you can always reach out to the Office of International Education with any additional questions.
Frequently Asked Questions:
Why study abroad?
Higher education is an investment and there is no doubt that studying abroad adds another layer to that investment. So, why? What do you gain form leaving the familiar for the unfamiliar and possibly incurring more debt? What is the difference between study in another country and just going on holiday? To be honest, there is no cut-and-dry answer to these questions…every experience is different and the greatest benefit comes from personal reflection and development - - you need to decide for you.
We believe, however, that study abroad allows students to develop global competencies that are proving to be essential when it comes to being successful in the 21st century, and for that reason SUNY has joined many schools across the nation in the commitment to Generation Study Abroad.
Never before has the world been more connected, where the speed of communication and information is greater than ever. That being said, so too is the speed of miscommunication and misinformation… the success to which we navigate our interconnected world depends on our cultural awareness, adaptability, respectful curiosity, willingness to listen and learn, informed exploration/investigation, and self-confidence (amongst other things).
Though we can work on these skills from anywhere, we hone them daily when we venture abroad for studies. Theoretical ideas of how to engage with people who are different from ourselves are put to practice as we adapt to our new surroundings. All of the things which inform our day-to-day life in our home country are given new eyes and fresh perspective as we learn through a different cultures lens. We grow exponentially as we navigate a world that though the same is different and we garner new appreciation for not only our own environment but also that of others.
These known benefits and the culturally immersive nature of study abroad also mean that a student's employability and marketability are enhanced. Going on a holiday abroad will not have the same résumé building power as noting an actual study or service learning abroad, where you can highlight what you did and the skills gained from the experience.
The Institute of International Education (IIE), which tracks international education trends and benefits both here and abroad says: Studying abroad gives students a competitive edge when applying for jobs, and has also been shown to increase the likelihood of being assigned an interesting project and even increased opportunities for getting a raise!
Understanding the many benefits of study abroad, institutions across the United States (and abroad) have made commitments to broadening opportunities and this means that there are options out there for just about every kind of student! Study abroad no longer means taking a semester out of your home institution studies and there are now experiences for winter, summer, and even spring breaks. Schools recognize the enormous benefits and know that students will be that much more equipped for success by enhancing their international education experience. So, if you are curious about study abroad but not sure if it is possible for you, don't give up your search…there are so many opportunities to choose from and the Office of International Education is here to help you with whatever questions you might have.
How do you know what type of study abroad experience is the best fit?
First, ask yourself these questions:
Do you want to study for a full semester or over one of the breaks?
What classes do you need to take for your degree and could you take them abroad?
For instance, many students find that the requirements of their major are so rigid and specific that they have a difficult time finding or getting approval for relatable coursework in study abroad. In these cases, perhaps think about saving some of you general education credits for an abroad experience. Or maybe doing a service learning or internship abroad experience makes more sense for you.
Do you want to travel with a group of U.S. students and faculty on a faculty-led program (FLP) or go solo?
What language do you want to learn in or practice?
Do you already have a country in mind?
By answering some of these for yourself, you will help to narrow down the vast pool of choices you have available to you. Whether you use this information to navigate Alfred State options, the Open SUNY study abroad options, or opportunities beyond the SUNY system, we encourage you to be as thoughtful as possible when investigating. The more you know what you need from your experience, the better chances you will have finding the right fit.
Regardless of what type of experience you decide upon, it will be important to communicate with your own academic department, the Office of International Education (OIE), and Student Records and Financial Services as you plan and prepare. Financial aid and credit transfer are not guarantees in the world of study abroad. Written approval is needed meaning that courses or experiences will need to be evaluated by your academic department/advisor to determine if they will be willing to accept the experience as a transferred credit. The Open SUNY Study Abroad, Apply Now, and Funding Your Study Abroad pages all have more information regarding the steps to take when picking a program and getting campus approval.
*Please be advised that a prior felony conviction may impede a student's ability to participate in study abroad experiences. Should you have a prior felony conviction and wish to apply for study abroad, there will likely be additional review steps necessary so, you should plan ahead and apply early.
You have been accepted to a program, now what?
If your program is through another SUNY school, or through another institution or organization, you will want to make sure that Alfred State's Office of International Education is aware! It is also important that you have gone through all steps needed for transfer credit and financial aid approval if you are seeking to have credits and financial aid applied.
Here is a list of some pre-departure items:
Passport
Visas application (if needed)
Ensuring paperwork and payments are all in order
Flights
Credit transfer approval
Financial planning and payments
Waiver and enrollment forms completed
Health checkups and arrangements made for medications and relevant vaccinations (consult the Center for Disease Control for country specific requirements)
Adequate medical coverage abroad
SUNY mandates an extensive coverage through United Healthcare (UHC) so if you are on an Open SUNY program you should review the UHC 2018-2019 Member Services Brochure (pdf) to better understand how to utilize your health insurance resources.
Country research: What is considered illegal or socially inappropriate varies from country-to-country and region-to-region. In preparation for your travels, explore topics like:
Customs
Weather/climate
Laws
Acceptable attire (bridging both weather and socially appropriate)
Regional safety
Communication plans with family and campus. Consider how you will keep in touch while abroad and research best cell phone plans for international travel.
It is important that you follow all steps outlined by the host institution, be it Alfred State or through another school or provider. Program pre-departure orientations are mandatory, as is enrollment in Smart Traveler Enrollment Program (STEP). It is also imperative that all cost associated with the program have been paid prior to departure and that students not only read the links and resource materials provided by the host institution, but also conduct their own in depth country research. The more you know the better.
What is culture shock? How do you help guard against or overcome it?
When we are in familiar environments, we do not think about how much we rely on our collectively understood cultural cues. When you travel abroad, however, those cultural cues can feel turned on their head when compared to our new environment. Things that once felt normal and went unquestioned can start to feel out of place given the new context and we can feel disoriented… this is culture shock.
You may not feel shocked in a literal sense, but this act of feeling disoriented and processing new ways of life, attitudes, and cultural norms is by definition culture shock. There are four stages of culture shock:
Early euphoria / the honeymoon stage – Initially new places charm our senses and we can get caught up in all the wonderful things our new environment has to offer.
Irritation, hostility, and withdrawal / the negotiation stage - Gradually, the shine wears off and we can start to hyper-focus on the unfamiliar in our new environment. Being overwhelmed by the need for adjustment can lead to general irritation and hostility (a desire to force your new environment to work with you rather than you work with it) or a desire to withdraw, retreating from the discomforts and unfamiliar.
Gradual understanding / the adjustment stage– You start to relax and come to terms with your new home. Irritation or withdrawal gives way to understanding and you start to have a more positive outlook and vested interest in learning more about your host country.
Adaptation / the mastery stage – Assimilation and comfort within your new home is viewed as the final stage on the culture shock spectrum. You've fully embraced the cultural norms of your environment, you understand cultural nuances and find yourself navigating interpersonal and environmental relationships with a new found ease. This is not to say that you don't miss your home and friends but you have found a sense of normalcy and appreciation for your surroundings that doesn't have you pining for home in the same way.
Behaviors to look out for:
Frequent crying
General irritability
Excessive emphasis on contact with family and friends back home and on food, movies, and books related to the home country. Lack of interest in trying new things.
Heightened anxiety or lethargy: negatively impacts your ability or desire to accomplish daily tasks.
Withdrawal: refusal to go out of the apartment or meet new people.
Excessive sleep or inability to sleep.
Compulsive eating or drinking, or refusal to eat sufficiently.
It is important not to ignore culture shock.
If ignored the symptoms of culture shock can lead to depression and result in the need for consultation with a professional. If you are struggling or believe a fellow student traveler may be struggling, reach out! Look for ways to create meaningful connections, get involved with activities, and get out in the fresh air. Never hesitate to express your concerns to a program facilitator, seek counseling, or to reach out to Health and Wellness Services. You can ask the international office at your host and home university for counseling and other resources.
How to help:
There are no guaranteed methods to avoid culture shock but there are certainly things you can do to help support you through transitioning into another culture as you study.
Take time to learn as much as you can about the new location before you go. Prepare yourself for differences like time zones, pedestrian and traffic flow, climate – season you are traveling to, foods, social and political customs and religion(s), health and safety. Answering preliminary questions for yourself can go a long way in your overall sense of security once you arrive in your new home. Is the water safe to drink? What precautions should you take to help guard against regional disease? What clothes should you pack to make sure you are blending and being respectful of your new environment? The more questions you investigate prior to departure, the better prepared you will be for the transition ahead.
Don't be afraid of asking questions and keep and open-mind. If you are traveling to a place where a different language is spoken, try to learn some language basics before you leave.
Have a sense of humor – things may feel strange – as long as you are safe, embrace the oddities with a sense of humor.
Don't isolate yourself and withdraw from your environment - embrace your new location and experience museums or historical sites.
Build friendships and associations with positive people in your new surroundings.
Bring a bit of home with you (like pictures, a favorite pillow, or music – small touches can make a world of difference)
Keep in touch with people at home, sharing your cultural experience with them, but don't obsess over contact. You need to have a healthy balance and too much contact with home can sometimes keep from actually embracing the new environment.
What type of health insurance should I get for international travel?
SUNY mandates that all students on our programs be enrolled in adequate medical insurance. Our approved provider is United Healthcare (UHC) and has coverage for both medical evacuation and repatriation of remains. If you are on an Open SUNY program, here is a link to the UHC 2018-2019 Member Services Brochure to help you better understand your insurance, what it covers, and how to connect with resources through it.
If you are not on a SUNY program, make sure you or your program provider have made arrangements for adequate health insurance – feel free to reference the afore mentioned UHC guide for the approved SUNY insurance provider to understand the type of benefits we look for with regards to good international coverage (page 8 has coverage breakdown). We want you to be protected while abroad, and though we hope you never need your insurance, it is better to be prepared.
Do I have to get travel insurance?
Travel insurance is separate from international health insurance and although Alfred State does not mandate travel insurance for our locally-enrolled students, we highly recommend that any student studying abroad invest in travel insurance for your flights and personal property protection. It is better to have and not need then need and not have.
I've returned from my experience, now what?
Welcome back! You will most likely undergo a bit of an adjustment when you return and Alfred State has recently joined forces with other regional institutions to welcome students who have studied abroad to a re-entry conference where you can share your experience with other study abroad students and learn how to unpack and market all that you've learned from your time away. Please speak with the coordinator of international education further if you wish to take part in this conference and check out the ROC Your Global Future website and the ROC Your Global Future Facebook page to find out more and keep up to date on conference dates.