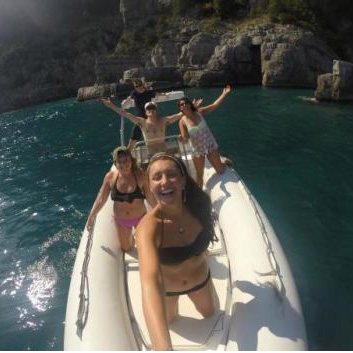 Though Alfred State is committed to continued Study Abroad Development on our own campus, as a SUNY student you have access to wonderful programs hosted throughout the SUNY system.
Explore the more than 1,000 programs, in over 60 countries, on all 7 continents. The SUNY Study Abroad Website is easy to navigate and caters to virtually every-type of study abroad experience.
If you find a program you like, reach out to Alfred State's Office of International Education to let us know that you have intentions to Study Abroad – it is incredibly important that you always keep your home campus in the loop with any plans.
We also recommend that you take a look at our Funding Your Experience page and start planning and saving for a study abroad well before you decide a place, there is no such thing as being over prepared in the world of financial planning.
Here are some things to keep in mind when exploring study abroad through other SUNY schools:
Start you search for programs here at the SUNY Study Abroad Website. Once you find a program you like navigate to the website or information link for the SUNY campus that hosts the experience.
Research: find out the details for the program and what courses you would like to take and make sure you bring them to your academic advisor. You must receive written approval from you department that they will accept the transfer credits if you wish to apply them towards required courses for your degree. In order to review courses, they will need a detailed description of what you are thinking about studying.
Ultimately, written approval from your department must be submitted to Alfred State's Transfer Advisor in Student Records and Financial Services if you are accepted to the program and wish to have courses count towards degree.
Go to Student Records and Financial Services to set up a meeting with your financial aid councilor…bring estimated cost sheets or numbers, and any other information you have with regards to department approval of courses for transfer credit. The earlier you start financial planning the better and we recommend connecting with your Financial Aid Councilor at least one full semester before your intended study abroad.
Once you settle on a program, follow the application procedures of the SUNY that is administering the study abroad (known as the host SUNY campus) and submit your application directly to that campus.
Notify Alfred State (your home SUNY campus) of your intention to participate in SUNY program by emailing studyabroad@alfredstate.edu and letting the office of International Education know about the program you have applied to – again make sure that you have adequately communicated with your academic advisor and department.
Once you are sure you going, email a copy of your acceptance letter and a request for meeting to studyabroad@alfredstate.edu to make sure you have connected with all of the proper home campus areas.
All Alfred State students studying through a different SUNY Study Abroad program are responsible for paying their full Study Abroad cost prior to leaving. Though the student will pay program fee's to the host campus, tuition fees must be paid to your home campus and the office of International Education and Student Records and Financial Services must both know the details of your study in order to set up proper billing.
It is also important that you are fully connected with your Financial Aid Counselor.
If you hope to apply financial aid towards your experience, an Alfred State Consortium Agreement must be filled out by both Alfred State and the Host institution prior to studying.
Parts I and II of the form are completed by Alfred State (student and transfer advisor – though the transfer advisor can only fill out part II if they have received proper verification from the students' academic department that courses have been approved for transfer – please refer to application process)
The form is then sent to the host institution's financial aid officer for the completion of section III before it is sent back to students Financial Aid Counselor on Alfred State Campus.