Annual Fund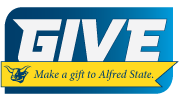 Your gift matters - every gift makes a difference. Scholarships and technology are the number one priority for the college. Your participation is so important. No matter what amount, your gift will change lives. Through the Alfred State Annual Fund, you can restrict your gift to the scholarship, club or sport, etc. of your choice. Or you can allocate your gift for general unrestricted support, where it will be used for critical needs such as scholarships and technology. Every dollar raised ultimately bolsters the solid foundation of academic excellence and success that the college is know for. Support our most precious resource - our students!
For more information, please contact:
Director of Annual Giving
Phone: Call: 607-587-3936
---
Athletics
Join the Pioneer Athletics Corporate Partner Program
Pioneer athletics completed the exciting journey to NCAA Division III in the 2017-2018 academic year. The college sponsors 19 intercollegiate athletic teams that not only compete in the NCAA, but also in the ACAA, AMCC, ECFC ,and the ECAC.
With your sponsorship, you will receive advertising and promotional benefits, such as visibility at athletic events, public address announcements, signage, and athletic event tickets just to name a few.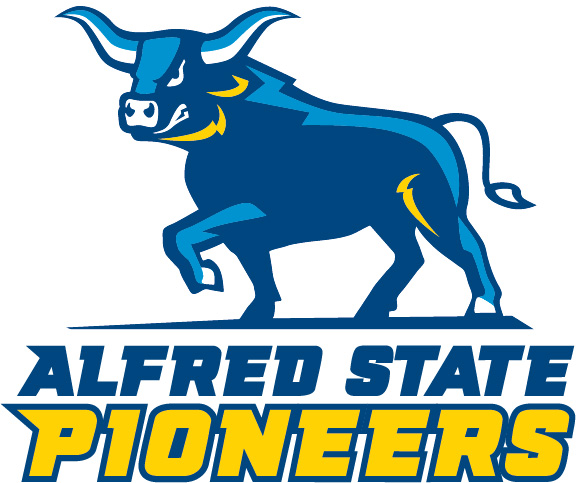 The future is now! Join us to become a part of the amazing things happening in pioneer athletics. We're excited to announce an ox as our new animal mascot. A symbol of the hard-working attitude of our students and campus community, the ox is a loyal friend of the pioneer and will enhance an already strong connection that Alfred State College has with the pioneers nickname. The new look will help accelerate the momentum we have gaining the official NCAA Division III status, securing multi sport conference home in the AMMC, and moving us forward as a national program.
"You can expect a pioneer football program that is going to compete in everything we do, from on the field, to in the classroom, and helping in our community," says Scott Linn, the new executive head football coach for the Pioneers.
Levels of Sponsorship
Champion - $5,000
Platinum - $2,500
Gold - $1,000
Blue - $500
Additional Sponsorship Opportunities
Athletic Press Release Weekly Sponsorship $1,500
Take advantage of weekly news exposure.
Video Stream Sponsor $1,500
Alfred State streams live video of the home athletic events (football, soccer, volleyball, basketball, wrestling, lacrosse) for family, fans, and supporters to catch the action when they can't be at the game. The Video Stream Sponsor's logo would be prominently displayed on each broadcast.
Athlete of the Week Sponsorship $1,500​​
Each week Alfred State spotlights one or more Athletes of the Week that are recognized on our website and social media pages. Partners at this level will accompany this spotlight of our student athletes.
Website Advertisement $500
The Pioneer athletic website, www.alfredstateathletics.com, has unlimited opportunities to reach the world and experiences more than one million hits per month. Your advertisement will be at the bottom of every page of the site.
Athletic Banners/Sign $500/location
A 3'-by-9' sideline banner at Pioneer Stadium, Orvis Gymnasium, baseball field, or softball field.
Fitness Center Signs $500
Spread your message to the more than 1,500 members of Alfred State's two fitness centers.
Ticket Sponsors $500
Spread your message (advertisement or coupon) on the back of all Alfred State tickets for football and basketball games.
Contact Us
Jason Sciotti, Director of Development
Phone: 607-587-3931 or email: sciottjm@alfredstate.edu
Jason Doviak, Director of Athletics
Phone: 607-587-4361 or email: Doviakjm@alfredstate.edu
Paul Welker, Assistant Athletic Director/Sports Information Director
Phone: 607-587-4563 or email: welkerpm@alfredstate.edu
---
Brick and Beautification Initiative
Leave your mark on Alfred State.

Purchasing a brick will allow you to help create the foundation for a new tradition, and remind fellow Pioneers of the faithful alumni and friends who paved the way for them. Engrave your name into the history of Alfred State. Honor yourself or pay tribute to a friend, family member, or favorite faculty or staff member. Declare your devotion to a fraternity or sorority, Pioneer team, club, or chapter.
The Alfred Alumni Plaza and the Wellsville Campus Courtyard central gathering places in the heart of our two thriving campuses. You may acquire your piece of Alfred State by purchasing a brick (or bricks) to be included in either of these dedicated sites. Each brick can be engraved with your choice with up to three lines of text, using a maximum of 25 characters per line, including spaces.
Brick dedication with three lines of text: $85
Brick dedication with two lines of text: $75
Brick dedication with one line of text: $65
How to order your brick:
Visit us in person at the Alumni House
---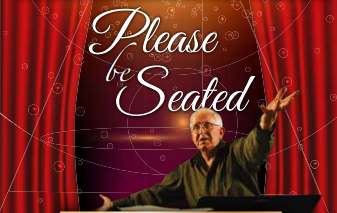 The spotlight is on you! You're invited to become a permanent part of the Cappadonia Auditorium by participating in our seat naming campaign, "Please Be Seated."
When you name a seat, you make it possible for more students to experience culturally diverse music, dance, theater, film, and family events. Your support to the New Century Fund will make a meaningful contribution to the cultural landscape of Alfred State College.
Please consider leaving an impactful and lasting legacy for a small donation of $100. By participating in this very special opportunity, your name will be on display for all who visit the Cappadonia Auditorium to see. Each plaque can be engraved with up to two lines of text, using a maximum of 25 characters per line, including spaces.
Plaque dedication with two lines of text: $100
How to order your plaque:
Visit us in person at the Alumni House
For more information please contact:
Director of Annual Giving
Phone: 607-587-3936
---
Corporate and Foundation Giving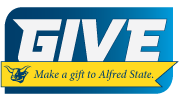 The Office of Institutional Advancement works to strengthen mutually beneficial corporate and foundation relationships for the college. They focus on financing special projects while supporting education, research, and scholarships through a proactive process of identifying, initiating, and managing relationships. Its staff takes an outside-in approach that recognizes the needs and priorities of corporations and foundations and aligns them with the strengths of Alfred State.
---
Endowments and Annual Scholarships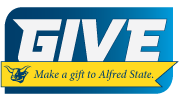 Endowments can be established for student scholarships, faculty chairs, and academic programs. An endowment fund preserves capital, offers long-term growth, keeps pace with or exceeds inflation, and can offer significant tax advantages to the donor. An endowment can be named for the donor or in honor/memorial of the person or persons of the donor's choice. Endowments can be created at a minimum gift level of $10,000. Learn about the scholarships we offer. Annual scholarships can also be established and funded each year by a donor awarded using the criteria established by the donor.
---
Gift-in-Kind Donations
Non-cash charitable contributions, also called "gifts-in-kind," are items and products donated for the use of Alfred State and its students. Donated items require approval of the Office of Institutional Advancement before they are accepted.
All gift-in-kind donors must complete a gift-in-kind donation form (pdf) and submit it to the Office of Institutional Advancement for proper recording and acknowledgement.
Questions may be directed to:
Alfred State
Office of Institutional Advancement
10 Upper College Drive
Alfred, NY 14802
Phone: 607-587-3936
---
Golf Tournament Sponsorship
The Annual Alfred State Golf Tournament, presented by Mach Architecture, will tee off at the Wellsville Country Club in Wellsville, NY, on Friday, June 18, 2021 and we would love to have you join us! Proceeds from our event benefit the college's greatest needs and our students ultimate success.
This all-day tournament will feature a captain and crew format, exciting contests on the course, food and refreshments provided throughout the day, dinner, and great prizes and raffles. Registration for the tournament is now open, and I invite you to participate and support this important fundraising event by:
Becoming a tournament sponsor (pdf). Sponsorship's are available at various levels and offer a strategic display of your company name at the event.
Donating prizes (pdf), goods, and services. Receive recognition at the awards dinner that closes the event.
Playing in the tournament(register online). Teams of four are forming quickly. Sign up your team today.
Pioneer Parent Fund

We are grateful that our students choose Alfred State. Our students receive an exceptional academic experience. However, their experience and life-long lessons can go from exceptional to life-changing with your help to the Alfred State Pioneer Parent Fund.
What do gifts to the Pioneer Parent Fund support?
National Competitions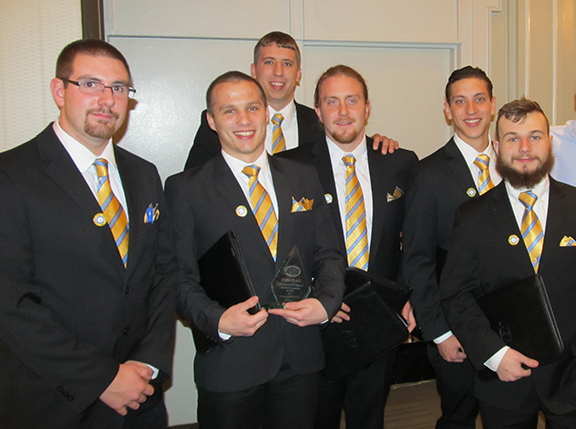 The parent fund provides support for students, classes, and organizations interested in participating in national competitions such as Baja SAE competition, Basic Utility Vehicle (BUV), robotics, Fireball Run, culinary arts, construction, and more. It is all hands-on, and our students learn to be innovative, creative, and apply skills readily so that they can "Hit the Ground Running!"
Civic Engagement and Student Leadership Programs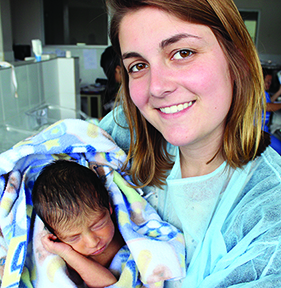 The parent fund directly supports new student-led initiatives that help provide our students with the civic and leadership skills they need to continue our college's commitment to making the world a better place helping save newborn babies in Honduras, hosting Veteran's Appreciation Day to thank our veterans, or participating in the Celebrate Allegany Day of Service.
These incredible opportunities help our students become professional, responsible, and caring adults we're proud to call Alfred State alumni.
Learn more about civic engagement.
For more information, please contact: